A formally trained artist, designer, and photographer, Caroline Gatehouse started "Fat White Cat Studio" in 2011 following favourable reaction to her exhibited artwork, and suggestions from the public that many of her images would make attractive Greetings Cards. And so it was that "Fat White Cat Studio" started on Caroline's kitchen table, in her small cottage in a Warwickshire village – a true "cottage industry"!
From inception, Caroline has set out to offer Greetings Cards that provide her customers with something distinctly different from what they will find in their local high street card shops, whilst insisting on use of the highest quality materials and production processes. Cards are digitally printed by a professional Company based locally to Caroline, with whom she has worked closely for many years. Images are printed on quality 350gsm board, then cellophane wrapped with white envelopes. Cards sizes are either 150mm x 150mm or 120mm x 180mm (landscape or portrait) and, with the exception of Christmas ranges, are blank inside.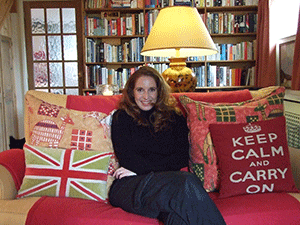 Many of her designs have no external text (she specifically does not offer the usual Birthday/Family/ Special Occasion type of card), and rely on the power and attraction of the image itself to prompt purchase – something that has proved very successful over the past eight years, with many customers declaring how good it is to discover "something different". There are ranges with surface decoration such as faux gemstones; others that sport honeycomb balls, and some occasionally carrying an idiomatic phrase relating to the image on the card. 
Animals, and in particular, pets, have always been a mainstay of her various ranges, but all images, whether they originating as paintings, a graphic design, or a photograph, are original works by Caroline and, hence, unique to "Fat White Cat Studio"
Since 2011, Caroline has attended well over 400 shows, markets, craft exhibitions, County shows, and national events in the UK, including Spring Fair, The National Pet Show, and The Cat Supreme Show at the National Exhibition Centre, selling her cards directly to customers. This has given her immediate and valuable feedback on her designs, which she can then translate into new images.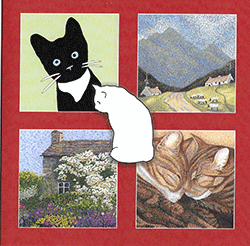 Commercial sales can be conducted entirely via a bespoke eCommerce facility within her website, www.fatwhitecatstudio.com. The website includes a Retail Order Form, with prices negotiable, depending on order volumes.  However, Caroline's preference is to meet prospective business partners and understand what their customers are looking for, and how best to assist them in growing their sales of Greetings Cards. This has worked particularly well with the card shop in a large regional hospital for example who has, over a two year period, almost quadrupled their sales of Caroline's cards. 
Being both the owner and designer, and with the support from her printing partner, Caroline can react quickly to a specific demand, no matter how particular or how small, and provide an initial batch of cards, or a small range, usually within a few days . This allows retailers and wholesalers to entice customers with regular new designs without heavy financial commitment. Because of this, she does not offer a sale and return facility; the popularity of her cards at the events she attends personally providing every confidence of their attraction to the public. 
More recently, she has been approached by an established greetings card publisher, who has commissioned a number of bespoke ranges from her and, as a result, her name is becoming known globally.
It is not Caroline's desire or expectation to challenge either the range, or price point, offered by the major card retailers, the majority of whom source their products from the Far East. She remains committed to sourcing both materials, and service providers, as locally as possible, which is why all her cards proudly display the Union Flag on the back.
Caroline welcomes approaches from businesses interested in her cards, and will gladly provide a hard copy brochure and samples on request. She can be contacted via the contact page within her website,
www.fatwhitecatstudio.com