YoYo – self-extending and retracting
Discover the new system for watering and washing with the self-extending and retracting YoYo expandable hose. Turn on the tap and watch as it fills with water, the hose extends to twice its length. Once the water drains away, it retracts back to its original size. YoYo is available in 4 different lengths (8, 15, 20 and 30 metres), it is attractive, flexible, soft, pleasant to the touch and comes with a 5 years guarantee.
International award winner
YoYo received the prestigious '2016 International Red Dot Award' for Design, having been judged as one of the most significant products selected from 5000 entries from 57 nations.
High visual impact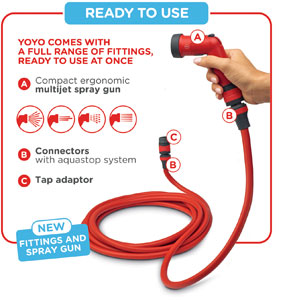 Functional and offering high visual impact, YoYo is a real winner in emotional content, aided by the colour choice of red, which makes it stand out from the crowd of conventional hoses. Innovative packaging and eye- catching graphics transform a household hose in to an item of unique design.
Much more than just a hose, YoYo is a revolution that makes any application requiring water outdoors a real pleasure. Compact and easy to store away, YoYo is the ideal hose for all applications from the flower garden to the patio, washing the car, caravan or boat, in fact wherever water is needed.
Ease of use
YoYo doesn't tangle or bunch up and its lightweight construction means no more lugging heavy hoses around. It is designed to follow a user's movements, making watering a pleasant and effortless experience. Its space efficient design, being practical and flexible makes for convenient storage. YoYo is easy to wind up without the need for a reel.
YoYo comes complete with multi-jet spray, 2 quick connectors, 1 tap adaptor and an instruction manual. The compact multi-jet gun has an easy to use flow control lever which is adjustable with one hand and there are 4 types of spray patterns for all applications.
Full colour display units are available including a video demonstration module.