Pet food company Soopa are celebrating the recent successful launch of their healthy dental stick range in the UK and Ireland. The new range of dental sticks which sold out in their first 2 months are stocked in Pet's Corner, Scampers, Chessington Garden Centre and in independents pet stores across the UK.
Having spoken with their customers Soopa found many were feeding healthy food and treats but still feeding junk-filled dental sticks. "We saw a huge need for a natural healthier dental stick for dog owners" Founder Barbara Hanly says "our version provides a healthy alternative with no grains, no added sugar and made with natural superfood ingredients"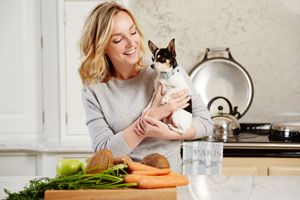 Founder Barbara Hanly says "Soopa's range of products were created out of a passion to make healthy and nutritious treats fun and innovative for dogs" Barbara came up with the idea for Soopa in her kitchen four years ago having worked in her previous dog grooming business and being shocked to see so many of her doggie customers overweight and unwell. "It spurred me on to create a low fat, natural and healthy dog treat range owners could feed their pets guilt free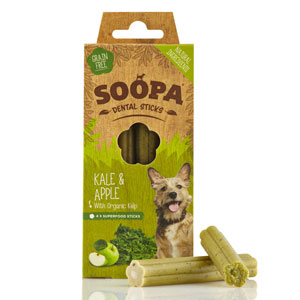 Soopa's treats are suitable for dogs with health issues including pancreatitis, food allergies, liver/kidney disease and obesity and retail at £3.99 per 100g. Available from Vital Pet Products, Trust Pets and Su Bridge Pet Supplies.
A healthy low fat treat your dog will love!