JFH Horticultural Supplies Ltd are based in Sandbach and here, sales director Nelson Hutchins discusses the firm's range of recycled, biodegradable products…
Why are biodegradable products so important to the garden trade?
As an industry I guess we are always looking at sustainability and protecting the environment. Customers are passionate about the 'green' vision and saving the environment.
What range of biodegradable products are available at JFH?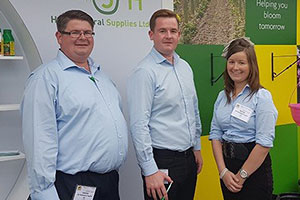 We supply a range of closed loop plastic plant pots, organic slug pellets and the complete Root Pouch range, these are planting bags that are manufactured from recycled water bottles and are made into a degradable product too. They will degrade in 4-5 years.
Which are the best-selling biodegradable products?
The Root Pouch is are best seller. It not only ticks the biodegradable box but enhances root growth so the results are superior to a plastic alternative. Along with this the Root Pouch has better water holding capacity so reduces the amount of water required.
Compared to non-biodegradable products, is there a price difference?
Yes all biodegradable products cost more, however this is a short-term view – the sustainability and results that can be achieved through using these products far outweigh the increase in cost.
What is the future of your biodegradable product?
We will continue to sell these lines and we feel the Root Pouch has tremendous potential especially into local authorities.
About JFH Horticultural Supplies
Established over forty years ago, JFH Horticultural Supplies are a dedicated organisation committed to integrity, honesty and excellent service, specialising in moving your business forward with innovative tailored products to suit your requirements and the ever demanding needs in horticulture.
We focus on service and personal contact with all our customers whatever size and location across the United Kingdom. Our success is through the building of lasting working relationships with our clients. Our extensive range includes products from many of the leading horticultural manufacturers.
images