Pemberly Fox understands that choosing a special card for the right person and occasion is a very personal process. You want it to be just right, which is why they are passionate about creating the finest custom cards possible.

Printed on quality card, all of their luxury greeting cards and note card sets carry a unique design. Created by one of their talented artists, illustrators or graphic designers, each design is truly stand out and covetable. Ranging from a selection of animal designs, including dogs and game birds, to sports, botanical illustrations and bold graphics there is something for everyone in their curated card collection sourced from a talented pool of global contributors.

Garden lovers will particularly like botanical print maker Susie Hetherington's glorious designs featuring climbing roses, daisies, weeping willows and the wildflowers from the Gloucestershire hedgerows she spies from her country studio. Her big, bold florals mixed together with intricate repeat patterns and wonderfully rich shades of coral, vibrant green, blue and sunshine yellow suit almost every occasion from birthdays to anniversaries.

Pemberly Fox is a great proponent of the art of letter writing. Sending a hand written note of thanks truly means so much more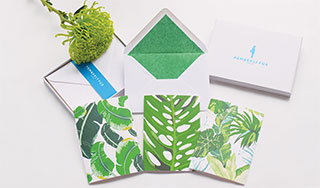 than firing off a quick text or email. Receiving a beautiful, hand scripted note on a stunning greeting card encased in a quality envelope can honestly make the recipient's day. So of course, each of the high quality greeting cards is left blank for your own personal message. Remember, greeting cards are not just for birthdays!

The team at Pemberly Fox knows that presentation is everything, so not only do they create and curate beautiful designs using quality card, they also want the recipient to feel like they're receiving something special when they open it which is why, as a final touch, their crisp white envelopes are mostly lined with either toning tissue or paper. 

The highly skilled team at Pemberly Fox are located in London. All of their exclusive designs are handcrafted and printed in the UK using both contemporary and traditional techniques.

Written by Dorcas Jamieson
images