Twenty-two companies in the pet care industry were honoured on Sunday 24 September 2017 at the PetQuip Awards Dinner & Party, which took place in the Ludlow Suite at the Telford International Centre, in association with PATS Telford.  
Also presented was a Lifetime Achievement Award for Terry Brown, the founder and current chairman of Pedigree Wholesale Ltd, one of the UK's largest wholesalers in the independent pet and aquatic trade.
In front of a packed UK and international retailer and supplier audience that represented all sectors of the pet trade, the names of the finalists, highly commended and silver recipients and the gold award winners were announced for each of the eight award categories.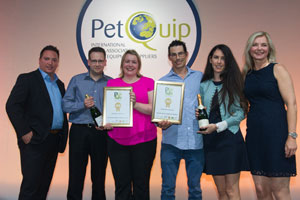 The 2017 award-winning firms are:
Business of the Year
Gold – Pedigree Wholesale
Silver – Natures Menu
Highly Commended - Forthglade
Exporter of the Year
Gold – Pet Revolution
Silver - Natures Menu
Highly Commended – Armitage Pet Care
Marketing Project of the Year
Gold – Hownd – Bring your dog to work day
Silver – Cotswold Raw
Highly Commended – The Dog Treat Company
Pet Product of the Year – three categories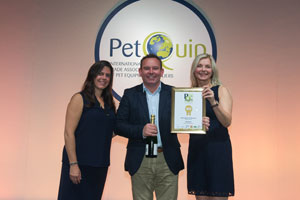 Food & Treats
Gold - Verity & Voss (Oggi's Birthday & Christmas Gift Boxes)
Silver – Beco Pet (Free roaming wild boar with broccoli & pumpkin ethical food for dogs)
Highly Commended – Burgess (Excel long stem feeding hay)
Accessories
Gold – Hownd (All seasons natural skin, nose and paw balms)
Silver – Phoenox Textiles (pet mats range – new designs)
Highly Commended – Accapi (Ruffwear Front Range Harness)
Health & Technical
Gold – Motorola (Scout Traks GPS system)
Silver – Pet Revolution (Natural flea & bug repellent)
International Pet Retailer/Distributor/Wholesaler of the Year
Gold – blue gray, sro (Petpark), Slovakia
UK Pet Retailer of the Year
Gold – joint winners: 
Paws & Claws, Frodsham, Cheshire and 
Pet London, Wigmore Street, London
Silver – Pets Pantry, Warrington, Cheshire
Highly Commended – The Wandering Dog, Cullercoats, Tyne & Wear
Lifetime Achievement Award
Terry Brown
Pedigree Wholesale was voted Business of the Year prior to the announcement that the company's founder Terry Brown was the recipient of the 2017 PetQuip Lifetime Achievement Award.  
Terry Brown's son, Steve, said that it had been a marvellous night for the Brown family, who had all attended to pay tribute to Terry, for whom the award came as a complete surprise. 
Terry Brown confirmed: "I had no idea I was going to receive a Lifetime Achievement Award.  I thought it was great for the whole family to be together on such a fantastic occasion and see the company win Business of the Year, and then receiving my own award was such a shock. I've been fortunate to enjoy every minute I've been involved in the pet industry."
A delighted Mark Hirschel of HOWND, which won two awards, commented: "Tonight's achievements are beyond our wildest expectations. It is a tremendous feeling when all your hard work and perseverance pays off."
Jamie Gleave, of Paws & Claws pet shop, which was voted joint UK Pet Retailer of the Year, commented: "This honour means everything to us. It is recognition for seven year of hard work transforming an ailing pet shop into a thriving business."
Following receipt of the Gold Award in the Pet Product of the Year (Health & Technical) category for its Scout Traks GPS system, Joel Lucy said: "It's great to see the pet trade recognising the new technology side of the business. I'm overwhelmed to have received this PetQuip award on behalf of Motorola."
The awards were presented by Pat Flynn, PetQuip trade association manager and Amanda Sizer Barrett MBE, director general of the PetQuip association, who, after the event, said: "We were delighted to host the PATS new product showcase presentations at our awards evening; as it's given us all even more reason to celebrate the enthusiasm, innovation and expertise demonstrated in our industry sector.
"Our team at PetQuip works hard year-round to promote connections between suppliers and pet retail buyers across the world; so it is particularly rewarding for us to be able to celebrate the successes of this innovative and vibrant industry with our fifth year of the PetQuip awards; this industry is such a great one to be involved in!"
The main sponsors of the awards this year were PATS, APPA (American Pet Products Association), Global Pet Expo, Natures Menu, Group 55, The Dog Treat Co, Loving Pets, Pet Trade TV and James & Steel. The highly popular event was staged in association with Impact Exhibitions, the organiser of PATS.
The PetQuip association is a division of the Federation of Garden and Leisure Manufacturers Ltd, the trade association that works on behalf of British companies to help its members increase sales worldwide.