RHS perfume launches at Chelsea Flower Show
Tuesday, May 21, 2019 - 09:29
The Royal Horticultural Society (RHS) his showcasing an exciting new fine fragrance at the RHS Chelsea Flower Show this week. RHS perfume Electric Rhubarb has been produced in partnership with Floral Street, an innovative British company producing contemporary floral fragrances.
Electric Rhubarb packaging will feature the Floral Street and RHS logos against the background of a fabulous and colourful flower mural created exclusively for Floral Street by leading London photographer Matthew Donaldson. The Electric Rhubarb packaging will include the words: "For the sparkling, luminous, fun-loving and charming". This fragrance is part of an extensive range of Floral Street fine fragrances.
During the RHS Chelsea Flower Show, both the 50ml Electric Rhubarb bottle and the 10ml eau de parfum bottle will be available to buy at the main RHS retail stand, where they will form the centrepiece of a Floral Street display. The display will also include the entire Floral Street fragrance range. Samples will be offered to stand visitors throughout the six days of the show.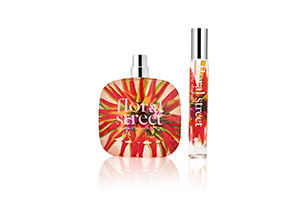 But that's not all. At a special event, taking place in the Jardin Blanc restaurant at the flower show on Wednesday 22 May, Matthew Pottage, RHS Garden Wisley's Curator, and Floral Street Perfumer Jérôme Epinette, the 'nose' behind the creation of the new fragrance, will offer a short presentation discussing both the development of the new fragrance and the partnership between the RHS and Floral Street.
RHS perfume in Covent Garden boutique store
The new RHS fragrance will also be prominently featured in Floral Street's Covent Garden boutique window display during May and June and will be available both from the Covent Garden flagship store and selected retailers, including John Lewis and Partners and the new retail space at RHS Garden Wisley. It will also be sold online at www.floralstreet.com. Both the new design concept and the RHS fragrance will be promoted through multiple media channels.
Working collaboratively with the RHS to create this unique fragrance, Floral Street has combined beautiful white florals and soft powdery sandalwood with the scent of English rhubarb and an unexpected blast of salty sea air to make this an instant mood lifter. The key ingredients include rhubarb, Australian sandalwood, island gardenia, frangipani and jasmine sambac. Inspiration for both the fragrance and its name come from the heritage rhubarb collection found at RHS Garden Wisley, the flagship garden of the Royal Horticultural Society and one of the great gardens of the world.
Founded in 2017 by beauty industry insider Michelle Feeney, Floral Street was devised as a collection of incredible fine floral fragrances for the modern and curious female, created by one of the best noses in the world, Jérôme Epinette – but also accessible and affordable. An incredible 20% perfume oil level makes these scents beautifully long lasting. Today Floral Street fragrances can be found in selected retailers in England, Scotland, Ireland, Australia, Germany and Scandinavia, as well as the flagship Floral Street store in Covent Garden, London.
Michelle Feeney, founder of Floral Street, says: "As a creator of fine floral fragrances for the modern female, who better to collaborate with than the RHS, the best-known and best-loved gardening charity in Britain? We are looking forward enormously to launching Electric Rhubarb, the incredible result of a wonderful collaboration, in our fabulous new packaging concept, at one of the world's most famous flower shows."
RHS Garden Wisley Curator, Matthew Pottage says, "It is fantastic that Electric Rhubarb's exceptional fragrance takes inspiration from our National Collection of rhubarb held at Wisley. I'm delighted to support its launch at the RHS Chelsea Flower Show."
Cathy Snow, Licensing Manager, RHS, says: "In Floral Street we have found a brand that, in name and inspiration, as well as quality and innovation, is wonderfully suited to the RHS Licensing programme. We are thrilled to be launching this exceptional new fragrance from Floral Street at the RHS Chelsea Flower Show."