Monday, March 9, 2020 - 11:44
STAFF at one of the UK's leading commercial nurseries are celebrating after being granted the propagation licence for an award-winning Lomandra (March 2020).
 
Wyevale Nurseries will be growing Lomandra 'White Sands', the first variegated Lomandra, which was also the Winner of Best New Novelty at Groen-Direkt Spring Fair in Holland in January.
 
Kyle Ross, Production Manager at the Containers Division at Wyevale Nurseries in Hereford, explained: "We are delighted to announce that we have been granted a propagation license for Lomandra 'White Sands' and we are the only end product seller in the UK. By having a propagation license, we are able to take production material from our own stock plants and grow it on, ensuring the integrity of the plants are true to type.
 
"Lomandra 'White Sands' delivers everything you need from a 21st Century plant. Its striking cream and green variegated leaves gently cascade, forming tall elegant domes, making it ideal for spot planting or containers.
 
"Planted en masse Lomandra 'White Sands' will bring waves of colour and texture as the breeze ripples through the variegated foliage,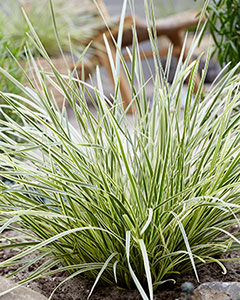 hypnotic and soothing.
 
"In our ever-changing climatic conditions 'White Sands' will cope with both extremes – drought through to waterlogged, what more could you ask for! It is virtually indestructible and will also withstand pets, children's ball games, frosts and neglect.
 
"As fast growing as many bamboos this evergreen perennial certainly offers customers a great return for their investment and is a landscaper's dream."
 
It was bred by a collaboration between Malcolm Woolmore of KiwiFlora Ltd and Robert Harrison of Greenhills Propagation Ltd. Available in a three-litre pot from March. RRP £14.99. Ultimate size 75cm x 50cm.
 
The product selection available from Wyevale Nurseries is envied across the industry and the talented team regularly introduces new, award-winning plant varieties.
 
Its main business is to supply garden centres, landscape contractors, local authorities, foresters and landowners with a comprehensive array of trees, shrubs, hedging, herbaceous and specimen plants.
 
For further details about Wyevale Nurseries, which is based in Hereford, please call 01432 845 200, visit www.wyevalenurseries.co.uk, follow the company on Twitter at www.twitter.com/WyevaleNurs or log on to www.facebook.com/WyevaleNurs.