Tuesday, February 25, 2020 - 10:25
Haskins Garden Centre is delighted to confirm the acquisition of Forest Lodge Garden Centre, Garden Style and Birdworld, in Farnham.
This acquisition is part of a long-term plan for Haskins to expand its group of four garden centres across the south. The family-owned company has been looking for the right business, in the right location, for a number of years to add to its portfolio of sites.
Warren Haskins, Chairman of Haskins Garden Centres, explained: "We have long admired Forest Lodge, Garden Style and Birdworld and are delighted to welcome the businesses and its teams to the Haskins group. We have created a great culture within Haskins and have worked hard to develop a long-term plan for all our sites, with a view of remaining a family-owned, independent business. We are pleased to have held out for the right opportunity and believe that Forest Lodge, Garden Style and Birdworld will be a good cultural fit and will help support our future strategy."
Roger Head, Managing Director of Denys E. Head Limited, said: "After setting up the business with my parents 40 years ago, we have had an incredible journey and I feel that it is now the right time to retire and therefore sell the business. I have known Warren Haskins throughout this period and believe the Haskins business to be the perfect custodian to continue to develop Forest Lodge, Garden Style and Birdworld. I am very proud of the business and the team of people who have contributed so much to our success and I have worked hard to make sure the transition is as smooth as possible for the team and our customers."
Forest Lodge is an award-winning garden centre and retail offering on a 6.8-acre site, with an impressive 300 seat restaurant. The business is located three miles south west of Farnham, directly off the A325, providing an extensive catchment including Guildford, Reading, Southampton,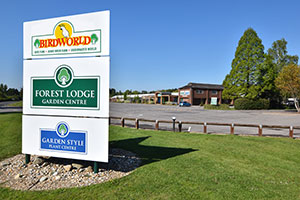 Portsmouth and Andover.
The site also incorporates the retail and wholesale business, Garden Style Plant Centre, on a further 3-acres which complements the main garden centre's offering. Haskins acknowledges the opportunities to develop this facility.
Birdworld is one of the largest independent tourist attractions in the south east and has been a popular local destination for the past 50 years. Spread over 23-acres with its own catering and retail facilities, it attracts over 100,000 visitors a year to the bird park, gardens and aquarium, and has an extensive conservation and breeding program.
Warren Haskins added: "As a business we have a lot to learn about Birdworld but already see it as an essential element of the long-term plan for the site."
Haskins Garden Centres Ltd has centres in Ferndown (Dorset), West End (Southampton), Roundstone and Snowhill (West Sussex). Haskins Snowhill is currently closed to carry out the final phase of the centre's redevelopment plan, ahead of re-opening for business in spring 2020.
Please visit www.haskins.co.uk for further information.