PERRYWOOD WINS BIG AT NATIONAL GARDEN CENTRE AWARDS
Family-owned Perrywood Garden Centre is celebrating a series of amazing successes at the National Garden Centre Association (GCA) Conference and Awards, the industry's most prestigious event of the year for UK traders.
Hosted by comedian Jo Caulfield, the Annual Gala Dinner and Awards were held in Stratford-upon-Avon and saw Perrywood named fourth out of 100 Garden Centres in the Garden Centre of Excellence ranking table – an impressive improvement for the  organisation, which held 11th place in 2017. 
The GCA carries out an annual inspection of all its members and uses this to compile the rankings table. The association adds up scores for a number of elements including customer service, merchandising, creativity and innovation, quality and range of products and much more. Perrywood, based in Tiptree, Essex, were praised for their plant displays and use of colours; impactful and easy buying displays within their gift shop and their commitment and focus on continuing to deliver a point of difference for their home grown plants grown on site in their large nursery.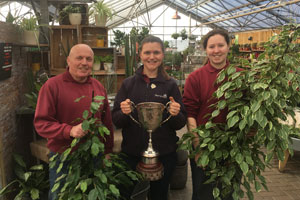 Garden centre awards come after trading since the 50s
Additionally, Perrywood came second in the Ruxley Rose Award for destination centres (above £4million turnover). This award recognises the best plant areas and standard is extremely high. The inspectors were very impressed with Perrywood's creativity and quality of plants. 
Not only this, Perrywood was announced winner of the prestigious Worrall Cup for its Green Up Your Home campaign. The Worrall Cup celebrates the garden centre with the best marketing expertise, campaign or initiative. The entries were judged by an independent panel of marketing experts and selected Perrywood as a result of the centre's commitment to unique creativity, outstanding innovation and commercial success. Their campaign focused on sharing a love of houseplants to a younger audience through exciting events and in-store promotional activity.
Alan Bourne, Perrywood's owner, said, "We are very pleased to have moved to fourth place in the GCA league table. This is an amazing achievement and is a testament to the hard work and determination of our entire team.  Second place in the Ruxley Rose Award reflects our passion for plants and the knowledge and enthusiasm the team has. Both the plant area and plant production nursery teams should be incredibly proud of this accolade."
Hannah Powell, communications and HR manager, added, "We are delighted to win the prestigious Worrall Cup and have given it to our houseplant team to 'green up'! Celebrating these successes is a great way to kick-start the year and we have lots more creative ideas and amazing products to showcase in 2018."
Perrywood is an independent, family-owned garden centre, coffee shop and plant nursery. They work hard to produce and source quality plants for the home and garden and employ more than 120 people from the local area. They are dedicated to raising funds for local charities and recently presented a cheque for £14,000 to their three chosen charities North & East Essex Mind, Marie Curie, Greenfingers.
Perry Wood is next to the site and lent its name to the business back in the 50's when Alan's parents, Mary and Les, bought the land. They started out by growing potatoes and pick-your-own strawberries. After working for Colchester's parks department, and seeing the supermarkets begin to take over the strawberry market, son Alan started to grow plants to sell from the front of the property and took over the business with his wife Karin in 1984. Over the next 30 years they gradually grew the business, which now attracts customers from all over Essex and further afield. 
images