British Christmas tree growers look ahead with confidence
Tuesday, September 8, 2020 - 13:21
Ideal growing conditions and an adaptable retail sector mean the public can look forward to easy access to real British Christmas trees in prime condition this coming festive season.
According to the British Christmas Tree Growers Association (BCTGA), favourable weather patterns have boosted growth this year, with a good mix of rainfall and sunnier spells throughout spring and summer leaving popular tree varieties in great shape as the countdown to Christmas begins.
Narrower trees that take up less space in the home are becoming trendier, with the needle-retaining Nordmann Fir expected to remain the strongest seller. 
After nervous trading sentiments at the height of the coronavirus lockdown, confidence has returned to sales forecasts for British Christmas trees. BCTGA members sell between 6-8 million trees every year, many through garden centres which were among the first businesses to reopen and thrive following their earlier enforced closure. 
Consumer behaviour has been refocussed during the pandemic too, with more people believed to be shopping locally and choosing sustainable, quality products, whilst spending more time together as families. As such, the BCTGA believes quality British Christmas Trees, grown sustainably and available locally, can be even more important to the festive celebrations this year.
As well as healthy footfall returning to garden centres where social distancing measures are now well established, growers who sell trees direct to customers from their own plantations are ideally placed going into the Christmas season. Often outdoors in wide-open spaces where it is easy to avoid close contact with others, growers can benefit and create a relaxed retail experience.
Positive feedback surrounding Christmas tree retail plans
BCTGA committee member Charlie Hood grows Christmas trees over approximately 1,000 hectares at Drynie Woodlands north of Inverness, Scotland, making it the largest specialist Christmas tree farm in the UK. He believes both growers and shoppers can look forward to this year's tree-buying season with great confidence. 
"We are getting a lot of positive feedback from our garden centre customers who are putting great care into their plans to sell Christmas trees this year," Mr Hood said. 
"In a normal year, a lot of Christmas trees are sold during the first and second weekends of December, but there is a lot of talk this year about how those customers can be spread out throughout the week."
Many of BCTGA's members open their plantations to the public for the festive sales period, providing a unique experience for families who often return year after year to choose their Christmas tree to take home. 
Mr Hood said: "Our growers' plantations perhaps offer even more space for customers than garden centres. They are ideal for social distancing and our growers have plenty of time to prepare and get ready to open their sites to the public, fully Covid secure. 
"A lot of thought is being given to how to adapt to social distancing rules, including new booking systems in order to spread trade throughout that crucial sales week in December."
Changes at the BCTGA see new launch of new strategy
For extra peace of mind to help growers comfortably incorporate social distancing rules, the BCTGA is sending helpful guidance to all its members ahead of the sale season. An updated Wholesaler List is also now available via the BCTGA website to help wholesalers source the best quality British Christmas trees.
Great resilience has been shown by BCTGA members this year, despite all the challenges. On some plantations, workers furloughed from other industries have been employed to help plant, shape and shear trees, and with other general maintenance. In some cases, this additional availability of labour has made up for some shortfalls in labour from Eastern European countries amid the unfolding Brexit situation. 
In what is also a milestone 40th year for the BCTGA, its committee recently appointed registered charity, the Yorkshire Agricultural Society, as its new Managing Agent. Based at the Great Yorkshire Showground in Harrogate, North Yorkshire, the Society brings a wealth of management experience, including as Managing Agent for the Farm Retail Association, a major membership trade organisation for the best farm shops and farmers' markets across the UK.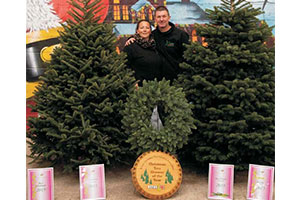 The move, announced in August, heralds the beginning of a bold, forward-thinking long-term strategy to help the BCTGA offer the best support to its membership of more than 320 growers as they seek to meet the needs of increasingly discerning customers. A new BCTGA website goes live this autumn.
2019 Downing Street Christmas tree winners
Part of being a member of the BCTGA involves networking, travelling and, as is tradition, an element of competition. Each year, it holds an event where members are invited to show off their finest tree – this year it will be held at the Great Yorkshire Showground on Wednesday 28October.
The grower with the finest specimen is invited to supply the Downing Street Christmas tree. Last year's winner was Stuart and Jennie Kirkup of Dartmoor Christmas Trees in Paignton, Devon.