Giles Rayner, a leading player in the world of water sculpture, will take centre stage in the Silent Pool Gin Garden at the upcoming RHS Chelsea Flower Show 2018 (22nd – 26th May).
The latest creation from Rayner - who is noted for his stunning Arches of Oman sculpture which lies in the gardens of The Royal Opera House in Muscat - has been commissioned by Neale Richards Garden Design, which is responsible for the design and installation of the overall Silent Pool Gin Garden.
Rayner specialises in using copper, stainless steel and bronze, often at a large scale, to create imaginative and highly individual designs, which combine energy and intrigue with simple aesthetic beauty. He will use polished copper distillation helmets in the construction of his sculpture at the Silent Pool Gin Garden, in a nod to the Holstein still used in their gin-making process, which comes from the Surrey Hills.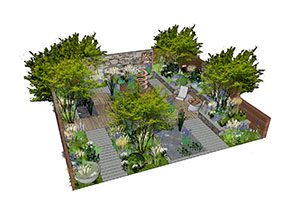 His creation at the Silent Pool Gin Garden will see Rayner's sculpture sit within a garden design that combines hard landscaping with drifts of soft planting, using Purbeck walling, Portland stone and weathered oak. 
A raised infinity pool will flow into a lower reflective pool, and a private canopy will be provided by multi-stemmed trees. The use of moving water empowers each design with real life, achieving sometimes a sense of the dramatic; sometimes the more peaceful. 
The news of Rayner's involvement comes hot on the heels of his show-stopping Arches of Oman water sculpture, which is still wowing visitors to and residents of Muscat. An inimitable design featuring two entwined tusks, it is 12m tall and 7m wide, and the sculpture features a majestic flowing curtain of water.
David Neale, managing director at Neale Richards Garden Design, said: "The sculpture that we have commissioned Giles to do is a representation of the citrus notes which go into the Silent Pool Gin as part of their botanicals. This was a way to include this particular botanic in a non-botanical way as we could not include citrus in the planting, but have included Orris root (Iris), Angelica archangelica and Chamaemelum nobile (Chamomile), as well as possibly rose and lavender into the planting."
He continued: "We had seen Giles' work at previous shows so know the quality of craftsmanship that goes into his work. Plus, the copper that both Giles uses and the sponsor has in their distillation process tie in well. This should have some great presence within the garden as you will see it takes a central place at the show, being easily viewed by the public and lifted up within a raised pool."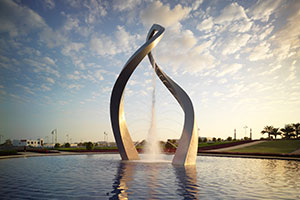 Giles Rayner said: "I am delighted to have been invited by Neale Richards Garden Design to contribute to the Silent Pool Gin Garden. The RHS Chelsea Flower Show is an iconic event which represents the joys of Spring in the UK like few other occasions, and I am looking forward to creating a sculpture which, like the season, is bursting with energy and life."
The RHS Chelsea Flower Show is celebrating its 107th year in 2018. The event is recognised as the world's pre-eminent show for landscape gardens and flowers.
For more information, visit www.archesoman.com or for information on RHS Chelsea Flower Show, see rhs.org.uk
images