Thursday, May 31, 2018 - 10:15
Produced by FIRA to give a greater understanding of fire safety issues that may concern those buying or selling outdoor furniture, the LOFA Outdoor Furniture Flammability Guide provides a basic introduction to the LOFAssured Scheme with essential information for retailers and consumers.
One of the conditions of LOFA membership is that members must adhere to a code of conduct, part of which is compliance with all current legislation. The new guide explains that, in order to achieve LOFAssured status, LOFA members must pass an audit process supported by Hertfordshire County Council which acts as prime authority and offers assured advice which will be accepted across all county and borough councils. The scheme shows a member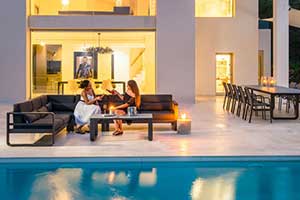 company is compliant to flammability regulations and performs sufficient due diligence to ensure products are fit for purpose.
Providing answers to 12 key questions relating to flammability concerns, the LOFA Outdoor Furniture Flammability Guide makes it clear that any form of garden/outdoor upholstered furniture that could be set up or carried into a dwelling and conservatory must meet the Furniture and Furnishings (Fire Safety) Regulations 1988 (as amended in 1989, 1993 and 2010). These regulations are enforced and policed by all local trading standards departments across the United Kingdom.
Flammability labels are an important aspect of fire safely regulation compliance. While some of these are for display purposes, others must be permanently attached to outdoor furniture and the guide gives invaluable details coupled with illustrations of what to look for. The final section of the LOFA guide provides invaluable details of further resources, including organisations relating to consumer support, associations and regulations.
For further information on the Leisure and Outdoor Furniture Association (LOFA) call 02392 258844 or visit their website