Friday, June 22, 2018 - 09:51
Block Blitz will once again be bringing its hassle-free paving treatments to this year's GLEE show profiling the start-up's growing business and its expanding product range on Stand number 20U70.
Originally launched at GLEE in 2016, Yorkshire-based, Block Blitz, unveiled the UK's first block paving specific treatment and won the Glee New Product Award for Garden Care and secured business with a host of stockists following the event.
2018 has already seen the launch of Block Blitz Gravel Treatment, which benefits from a similarly powerful formula as the original block paving treatment, and two further products will be unveiled at this year's show adding to the Block Blitz portfolio.
Block Blitz Multi-pave and Block Blitz for Artificial Grass are being added to the Block Blitz range making it even easier to keep outdoor areas clean and tidy.
As with the original Block Blitz products, both the multi-purpose paving cleaner and artificial grass treatment use the same powder-based cleaner which is made from a powerful mineral and plant-based formula and is non-abrasive, contains no bleach, acids or biocides and is biodegradable.
Block Blitz Multi-pave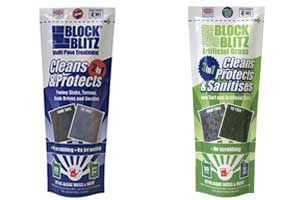 Block Blitz Multi-pave can be used on paving slabs, tarmac drives and decking and is easily applied by using a watering can to deter algae moss and weeds and protect from the sun whilst cleaning the area.
Block Blitz for Artificial Grass
Block Blitz for artificial grass self-cleans and sanitises the area keeping it clean and germ-free. The treatment is not harmful to pets or people and is applied by dissolving the product in water and spreading over the area.
Both new products come in 380g pouches costing £3.49 each which treat an area of 15sqm. Block Blitz recommends two treatments per year.
Block Blitz founder, Dave Moore explains:
"This will be our third attendance at GLEE and our stand will be our biggest to date. Our product range is expanding, and our business is gathering pace, with exciting plans imminent in terms of manufacturing and business development. We've had a great response to Block Blitz and I'm looking forward to spreading the word again at GLEE and of course hope to come away with even more interested stockists."
Block Blitz Paving Treatment
The paving treatment is specially designed to clean and protect paving with no need for effortful scrubbing, jet washing or sealing required. Using SOFT WASH TECHNOLOGY ™ to lift dirt and grime, Block Blitz can be simply mixed with water, applied and left to wash away naturally.
Benefitting from a mineral and plant-based formula, Block Blitz is the only paving treatment on the market to offer a unique non-toxic solution to cleaning paving. Incorporating a bespoke barrier detergent, Block Blitz goes on to repel dirt following initial application – as well as deterring algae, moss and weed growth – and offers UV protection for year-round useage.
Block Blitz Gravel Treatment
Benefitting from a similarly powerful formula as the original block paving treatment, Block Blitz Gravel Treatment offers an effortless solution to cleaning both gravel drives and decorative aggregates, protecting the surface from future weed and moss growth with its easy to use, two-in-one formula.
For further information Block Blitz please click here.
Retailers interested in working with Block Blitz, can contact the company on 01302 246 451 or by emailing enquiries@blockblitz.co.uk