It all started in 1977 when the founders, Walter Tippett and his wife Rose were running a local village shop.
Once a thriving fruit and vegetable delivery was underway, as well as a popular milk-round service, Rose decided she also wanted to supply potted plants to those in the village and surrounding areas.
With Rose in need of a decent potting shed, Walter set about building one for her. And whilst assisting her with her new venture he stumbled across an entirely new venture of his own.
In 1979 Viking Garden Buildings was established with a full catalogue of quality garden buildings. The Tippett family are proud to have been supplying excellent garden buildings directly to our loyal customers ever since.
Being a family business, now in our third generation, we take great pride in providing a personal service to each and every person whom engages in our products and services. We have a substantial assortment of garden buildings ranging from smaller tool stores and storage sheds, to luxury potting sheds and large bespoke workshops. We also offer a beautiful range of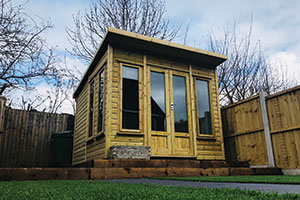 summerhouses as well as stables, field shelters and garages.
Also offering bespoke garden buildings, we work closely with our clients to bring their ideas to reality ensuring our high standards are a constant. Customer satisfaction and product standard are our key priority
All of our garden buildings are constructed entirely from (FSE) certified timber. The Forest Stewardship Council, whom manage the respectable harvesting of timber around the world, Which has been grown for purpose use in the timber industry.
All of our buildings are made with pressure treated tanalised timber, giving them a long life expectancy. With the correct maintenance, you can expect to have serviceable life of 20+ years from our garden buildings. We love to see our many satisfied customers, coming back to us again, decades later, stating just how pleased they have been with their Viking building.