Leading garden and home PR agency, Hornby Whitefoot, has raised over £4,000 for Greenfingers Charity – the result of a year working alongside the charity's team.
Hornby Whitefoot, who boast an impressive client portfolio of leading garden, home and lifestyle brands,has been helping Greenfingers with its marketing, communications and social media since November last year.
The partnership has proved to be an instant success and has resulted in 50% of the services fee being donated to the charity's work, centred around building sensory and therapeutic outdoor spaces for children's hospices across the UK.
Linda Petrons, Director of Fundraising and Communications at Greenfingers Charity was presented with a cheque for £4,094 at Glee by Kimberley Hornby, Managing Director of Hornby Whitefoot PR, also an ambassador for the charity.
Linda said: "We are so grateful to Hornby Whitefoot for their PR services and this fantastic donation. Thanks to their assistance with our marketing and communications along with the continued support of volunteer PR Ambassador John Clowes, awareness of the Greenfingers Charity brand has spread far and wide."
Kimberley commented: "Supporting Greenfingers Charity was an easy decision for Hornby Whitefoot. The work they do within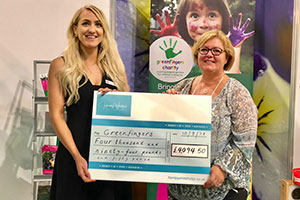 children's hospices is exceptional – they help hundreds of children and their families by creating magical gardens for them to spend time in together, in a safe and protective environment. We are passionate about the work they do and are happy to lend a helping hand to support such an important cause."
For more information on Hornby Whitefoot PR and how they can help your business strengthen PR and communications strategies, please contact Kimberley Hornby on  kimberley@hornbywhitefootpr.co.uk