Tuesday, November 7, 2017 - 11:45
A historic Christmas tradition is returning to Burford House Garden Store as they welcome back the UK's largest and most popular Holly and Mistletoe Auctions for the third year. 
The Tenbury Wells store, part of Hillview Garden Centres, will host the world-famous auctions which are held annually on the last Tuesday of November and the first two Tuesdays of December (28th November, 5th and 12th December).
Dating back to the Victorian times, the mistletoe plant is very important to the people of Tenbury for many centuries. Mistletoe is abundant on the many orchards around the market town with the plant having the perfect growing conditions in the many apple trees.  Holly is the perfect companion plant for mistletoe and both Christmas staples will be available to bid on throughout the day.
The event will be hosted by local company Nick Champion, who has built up a strong reputationin property, land and auctioneering.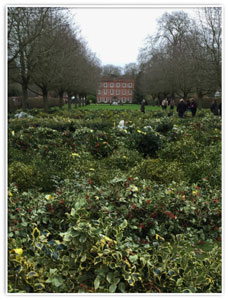 The auctions are open to wholesalers, garden centre retailers, florists, market stall holders and the public, with many buyers travelling to Tenbury from all over the UK to purchase the plants.
Burford House Garden Store Manager, Paul Benson said: "With Tenbury Wells being the English capital of mistletoe and it being engrained in the town's history, it seemed fitting that the auctions should return to the beautiful setting of Burford House for another year.  This year, we anticipate even more people in attendance for this traditional event, along with keen photographers from across the UK.  This local Christmas tradition is not to be missed."
Find out more
For further details on the Holly and Mistletoe Auctions, please visit Nick Champion on http://nickchampion.co.uk/auctions/holly-and-mistletoe/
To find out more about Burford House Garden Store, go to www.gardenstoreonline.co.uk.