The new collection of Plantpak Indoor and outdoor gardening products was launched in time to make the perfect Christmas gifts for gardeners this year. The collection includes stylish outdoor growing solutions as well as indoor house plant terrariums and even bringing hi-tech hydroponics into the home. Prices start from just £3.99 for the beautiful mouth blown Glass Globe Terrarium; an ideal stocking filler. While the Hydro-Pod indoor garden and Patio Grow House are stylish additions to any home and are sure to be cherished this Christmas.
The Plantpak Hydro-Pod Indoor Garden enables anyone to grow herbs, vegetables and flowers quickly and easily as no horticultural expertise is needed. Hydro-Pod has a stylish compact design which makes an attractive feature in any home. The two self-watering chambers water the plants and the grow medium automatically feeds the planter. As there is no soil, there is no mess and plants are surrounded with perfectly calibrated nutrition all of the time. RRPs start at just £39.99.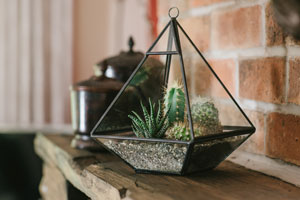 Plantpak are also on trend with their new Glass Globe Terrarium and Glass Pyramid Terrarium. Responding to the recent huge growth in demand for succulents and cacti they have introduced two gorgeous shapes of terrarium. The elegant Pyramid shaped terrarium with its contemporary geometric design is perfect for succulents, cacti and small plants. The smaller yet equally attractive Globe terrarium can be displayed on any flat surface or hung using the traditional style hanging string. The RRP of the glass Pyramid terrarium is £14.99 and the RRP of the Globe terrarium is just £3.99.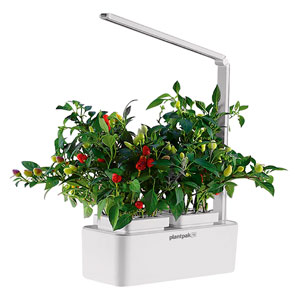 Looking forward to the Spring, Plantpak bring style, modernity, practicality and colour to functional products with the introduction of the Patio Grow House and Cold Frame. These brand- new designs recognise that the patio is now seen as an extension of the living room. Not only do they look superb, their performance will satisfy the most demanding gardener. Constructed in solid wood and finished in the on-trend colour of dove grey make them the perfect accessory to the patio. The Grow House RRP is £149.99 and the Cold Frame is £79.99
Make someone happy this Christmas with Plantpak