Thursday, June 21, 2018 - 09:50
Since its formation some 9 years ago, FP McCann's fencing division has firmly established itself as a leading UK supplier of precast concrete posts, panels and gravel boards. Significant capital investment and key strategic commercial recruitment is set to take the business to the next level. 
Operating out of its Cadeby manufacturing facility near Nuneaton, Warwickshire, FP McCann has increased its precast fencing production by an additional 30% with a £2.5 million investment in two new Coote precast concrete production lines. In addition to increased productivity levels, the other major benefits of the new lines include enhanced quality to the finished products and a reduction in the requirement for on-site manual handling. To accommodate the increase in production capacity, FP McCann has also increased its on-site stocking capabilities with the acquisition of an additional 22 acres of land for hard standing.
From left: Katie McGorty, Lisa Mackett & David Harper
"Having an extensive product range in stock will enable us to smooth out the natural annual 'peak and trough' demands particular to the UK fencing products market", comments Katie McGorty, FP McCann's National Fencing Sales Manager. "Providing quality products straight from stock at a competitive price is key to the future growth of our fencing business", Katie adds. 
FP McCann has also strengthened its commercial presence following the recruitment of two key people: Lisa Mackett, formerly of Supreme Concrete, has joined the FP McCann fencing team with sales management responsibilities in the South, South-East and London areas; Jack Wheldon has joined from the Forterra Building Products Group to take up the position of Area Sales Manager in the South-West region. "With Lisa's 20 years' experience in the fencing industry and her extensive knowledge of the south and London markets, we're looking forward to expanding our strategic coverage with stockists and contractors alike; Jack's background at Forterra dealing with the building sector, including merchants, will prove invaluable", Katie says. 
Lisa and Jack join David Harper, Area Sales Manager for the Northern and Midlands regions.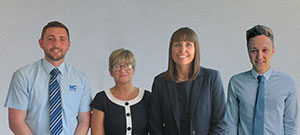 From left: David Harper, Lisa Mackett, Katie McGorty & Jack Wheldon
The Cadeby operational and commercial teams are well positioned not only geographically, but with a bank of skills and knowledge gained from years of experience, and FP McCann's willingness to invest in its business divisions; it will ensure the company is at the forefront of the precast concrete fencing sector in years to come.  
For Fencing enquiries, please contact:
Jack Wheldon on 077 3646 4612, email:jwheldon@fpmccann.co.uk
Lisa Mackett on 077 3860 4829, email: lmackett@fpmccann.co.uk
David Harper on 079 2110 8524, email: dharper@fpmccann.co.uk
Alternatively, you can call our Cadeby office on 01455 290780 or email: sales@fpmccann.co.uk