'Feel Good' by Hartley Botanic
Thursday, April 27, 2023 - 11:04
Hartley Botanics bright and cheerful RHS Chelsea Tradestand to deliver a much needed psychological boost 'Feel Good' by Hartley Botanic
Hartley Botanic, England's most historic and respected Glasshouse and Greenhouse manufacturer, has revealed more details of its 2023 RHS Chelsea Flower Show tradestand. The 'Feel Good' by Hartley Botanic tradestand will display four of the manufacturer's handmade Greenhouses, powder-coated in beautiful colours, to match changing customer tastes and set against cheery pastel planting and colourful accessories. Presented as versatile spaces for both gardening and lifestyle uses, the stand will demonstrate just some of the many ways these beautiful garden structures can be uniquely personalised. The uplifting stand has been inspired by Chelsea's 2023 wellbeing theme and the desire to give visitors a much-needed psychological boost. 
The tradestand designed and styled by Llevelo Garden Design, built and planted by Stewart Landscape Construction, will feature Hartley Botanic's Opus Botanic Glasshouse, Victorian Villa and Victorian Chelsea Glasshouses and a Wisley 8 Grow & Store Greenhouse. Three of the structures have been powder-coated in lighter colours – Country Stone, Verona Stone and Olive Leaf – to give a fresh look and to reflect how many customers are choosing soft stone and light greens in their Greenhouse choices. 
The Opus Botanic Glasshouse in Country Stone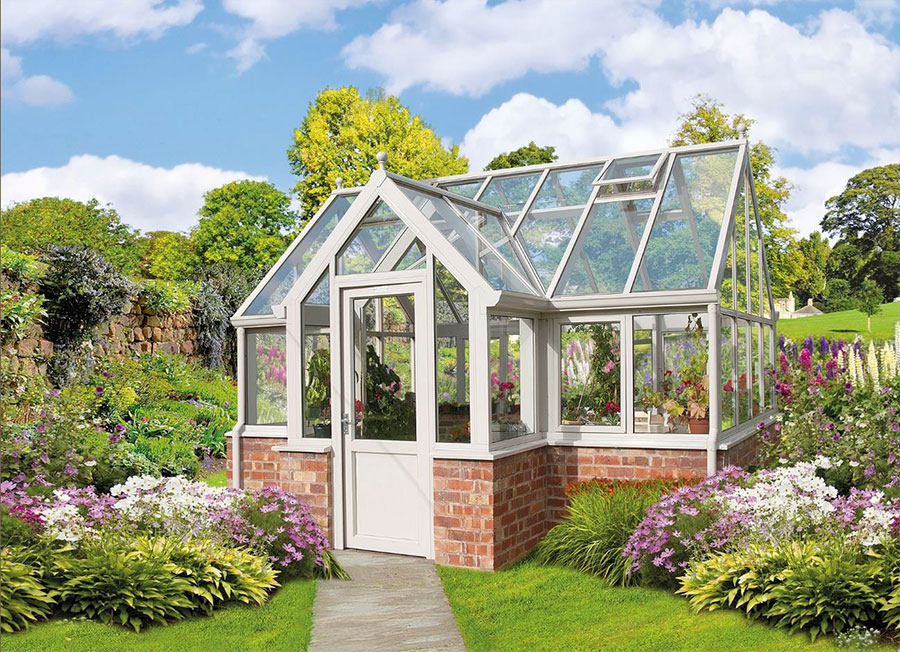 Opus Botanic Glasshouse, Shropshire 
The largest Glasshouse on this year's tradestand, the Opus Botanic is from Hartley Botanic's contemporary Modern Horticulture range and features concealed engineering and wider glass panes, to give a modern look and feel. The Glasshouse includes freestanding staging, high level shelving, powder coated visibility lights, four automatic roof vents and four manual vertical vents. 
Styled as a chic and luxurious plant-rich lifestyle space, the Opus will combine a display of houseplants with gorgeous accessories. The Glasshouse will be lit with bespoke pendant lights and feature an inviting reading corner, complete with books, a designer armchair and console table. A decorative plant display in a visually impactful, freestanding Urn will join a selection of colourful, potted plants positioned on internal staging. 
The Victorian Villa Glasshouse in Verona Stone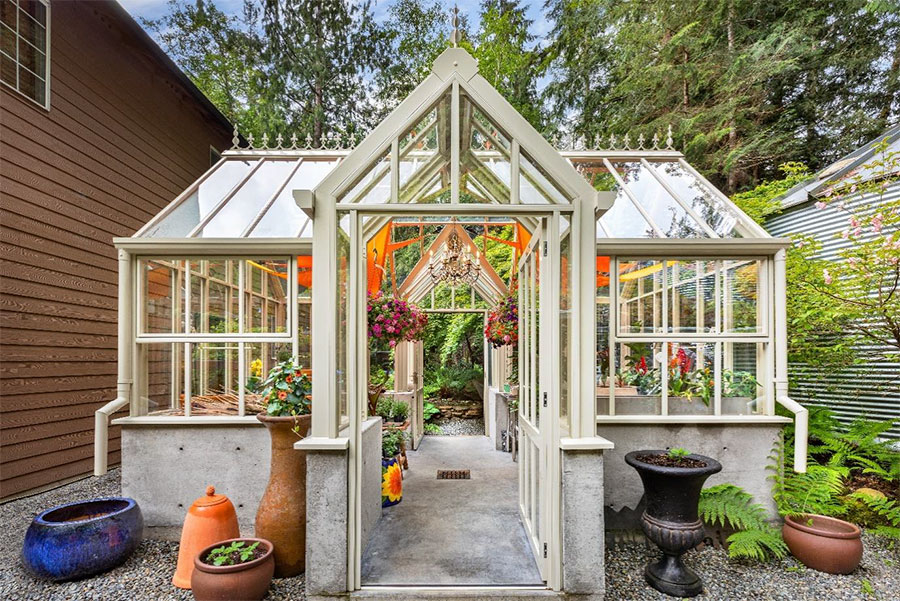 A Victorian Villa Glasshouse, Washington 
The Hartley Botanic Victorian Villa Glasshouse, with its charming proportions and Victorian aesthetic, is one of Hartley Botanic's most popular for many gardens. The Glasshouse has been powder coated in Verona Stone and features an extra door in the left and right gable ends. Fully furnished in useful and beautiful Hartley Botanic accessories, the Victorian Villa is being shown with integrated cold frames, blinds, automatic roof vents and both high level shelving and ornate Victorian staging. 
This Glasshouse will be presented as a versatile 'Grow Your Own' paradise, reflecting how many customers are choosing to use their Hartley Botanic structures today. Built-in raised borders full of vegetable plants will demonstrate the myriad ways a Greenhouse can be customised according to growing tastes or personal usage. 
The Victorian Chelsea Glasshouse in Olive Leaf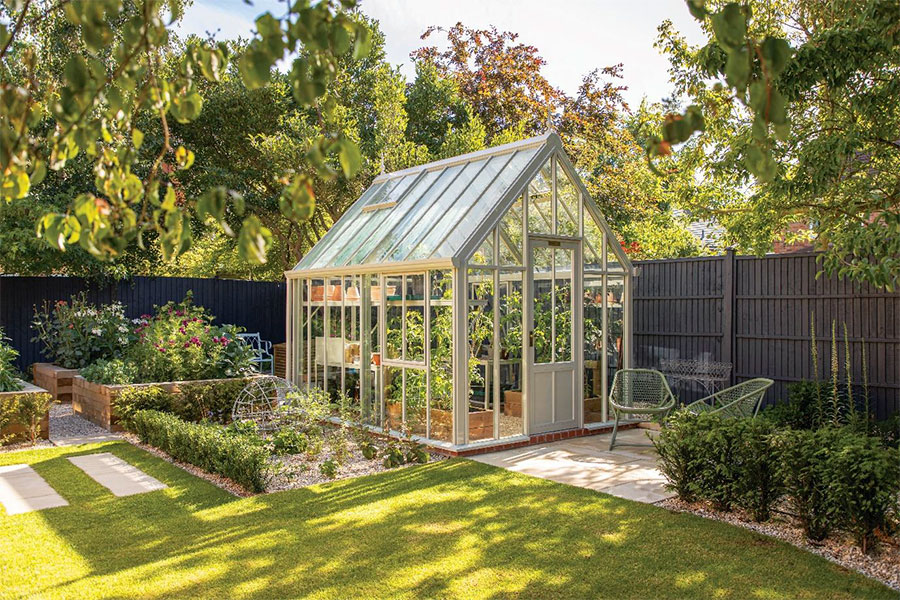 Victorian Chelsea Glasshouse, Nottinghamshire 
The Chelsea is the only Victorian Glasshouse in Hartley Botanic's range combining a glass to ground design, which provides additional light for growing, with a traditional Victorian apex look. The show model features roof blinds to both front and rear, decorative spandrels and two automatic roof vents. 
A ground-level border, running along two thirds of the Greenhouse length will join freestanding Victorian ornate staging and high level staging in this space, styled to inspire visitors to make a Greenhouse truly their own. Ladder-style shelving will be dressed with hanging house plants, small decorative vases and colourful blankets. Stylish interior-inspired detailing and bespoke furniture will illustrate a Greenhouse owner keen to combine their passion for home design trends with their love of growing. 
The Wisley 8 Grow & Store Greenhouse in Black Olive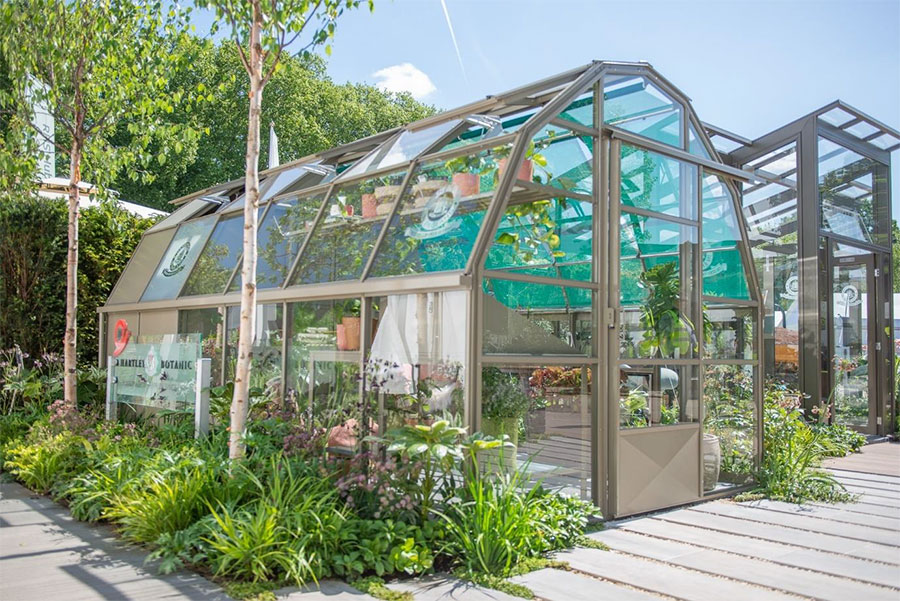 The Wisley 8 Grow & Store Greenhouse, RHS Chelsea Flower Show 2022 
Launched at the Chelsea Flower Show last year, the Wisley 8 Grow & Store is an iconic design based on one of Hartley Botanic's original, Heritage models and includes a useful, partitioned two-pane storage area. The flower show model includes both high level shelving and freestanding staging with blinds included in the grow section of the structure along with two manual and two automatic roof vents. 
Dressed as a cosy getaway, plants with interesting foliage, such as artichokes and nasturtiums, will be mixed amongst vibrant cushions and accessories, with an easy chair, footstool, and table for relaxing. The addition of a Hartley Botanic potting shoe on freestanding staging, shows this eminently practical Greenhouse is to be used as much for growing, as it is for relaxing and enjoying the garden. 
Garden design, plantings and overall look and feel 
The plantings on the Hartley Botanic tradestand will be joyful and colourful, to evoke an emotional response in the visitor. Cottage garden favourites such as Digitalis, Delphiniums, Lupins and poppies in pretty, sweetshop purples, peaches, fuchsias and yellows will look vibrant set against the calm, 
understated colour palette of the Greenhouses. The use of colour on the stand will have a luxury, considered look - to provide vibrancy and happiness without being overwhelming. This approach will be replicated in the styling of the Greenhouses themselves, with cushions, vases and furniture in vivid oranges, pinks and blues combined with neutral, natural modern accessories. A mixture of house plants and trees (including a lemon tree) will fill the Greenhouses, with all plants being potted in peat-free media from a local nursery to reduce the stand's carbon footprint. 
Tom Barry, CEO of Hartley Botanic said; "Our choice of structures for this year's tradestand, and choice of lighter Greenhouse colours, is a reflection of current customer tastes. We are noticing that customers are increasingly opting for Greenhouses in light, fresh colours such as stone, pale olive and white. The structures are also more restrained in size this year which is in keeping with current pressures for all consumers. 
"The intention of our bright, colourful garden scheme, which is also reflected in our Greenhouse styling, is to lift the mood of visitors coming to our tradestand. We wanted it to have a joyful and uplifting affect to demonstrate the powerful mood-enhancing potential of our gardens. Over the last few years, spending more time outdoors has been critical to our wellbeing and our Greenhouses allow customers to do this for longer throughout the year." 
Hartley Botanic was founded in 1938 by brothers Vincent (RHS fellow) and Norman Hartley following their ground-breaking aluminium Greenhouse design, the first time (to our knowledge) aluminium had been used in Greenhouse construction and marking a huge improvement on its wood and wrought iron Victorian forerunners. The English manufacturer is an authority on Greenhouse design and use over the decades, having been making its beautiful and elegant handmade, made-to-order horticultural buildings for 85 years from its original factory at the base of the dramatic Pennines' Chew Valley in Lancashire. It has become synonymous for crafting the finest Greenhouses money can buy through the very highest standards of hard-won experience, craftsmanship and service. A hugely respected brand within the horticultural world, it is the manufacturer of choice for leading organisations, institutions and designers with Hartley Botanic structures commissioned by the RHS, the National Trust, Kew Gardens, Glasgow Botanic Gardens, Massachusetts Horticultural Society and Oxford Botanical Gardens...to name a few. Its entire product range is endorsed by the Royal Horticultural Society. 
All Hartley Botanic's Glasshouses and Greenhouses are handmade, bespoke and made to order. Customers interested in purchasing a Hartley Botanic Greenhouse should visit: http://www.hartley-botanic.co.uk or call 01457 819 155 for more information. 
'Why Hartley?' – What makes a Hartley Botanic the finest Glasshouse money can buy 
Unrivalled. Unparalleled. Unique. There are Glasshouses and there are Hartley Botanic Glasshouses. Combining inspired design with enduring quality, nothing quite enhances your garden and home like a Hartley Botanic; each one beautifully handmade to last a lifetime. 
Why Hartley? 
At Hartley Botanic we have had a continuous conversation with our customers over many years. We have collected their comments so as to let you know what our customers say about us, and just why they have chosen a Hartley Botanic Glasshouse. 
1. Beauty and Elegance 
The incomparable range of simply beautiful and elegant structures means Hartley Botanic can create designs that are distinctive and unique. The Victorian, Heritage and Modern Glasshouse ranges, are so comprehensive you don't have to go anywhere else to find your beautifully crafted, high-quality Glasshouses from the widest of choices. 
2. Structurally Superior 
Every Hartley Botanic Glasshouse is handmade in the North of England to your exact requirements. It is made of the finest materials with unparalleled durability, safety, and beauty. All of the aluminium sections have a structural purpose. Short cuts, such as 'sticking' aluminium to glass for aesthetic reasons, are never taken. Hartley Botanic are so confident of the structural integrity of their Greenhouses; a 30-year Lifetime Guarantee is offered. 
3. A reputation Beyond Compare 
Hartley Botanic's brand heritage and reputation have been built on trust for over 80 years. They have earned an unrivalled reputation for crafting the finest Glasshouses and Greenhouses money can buy through the very highest standards of hard-won experience, craftsmanship and service. 
4. Unrivalled Knowledge and Expertise 
There is a wealth of knowledge and expertise built into every Hartley Botanic Glasshouse. Generations of customers have put their trust in the hands of expert, time served, highly skilled craftsmen. Glasshouses of distinction are created from decades of knowledge and care. 
5. Exceptional Delivery of Service 
Once your order has been handmade to your personal requirements, and Hartley Botanic's exacting standards, your delivery and installation will be exceptional. The proud team at Hartley Botanic are there to ensure the process runs smoothly, providing you with the information you need and keeping you up to date throughout. 
- ENDS - 
Notes to Editors: 
For press enquiries please contact: 
The Hartley Botanic team at WADE PR 
or call: 0797 067 9437 (Caroline) 
About Hartley Botanic 
www.hartley-botanic.co.uk 
Hartley Botanic is an English Glasshouse and Greenhouse manufacturer based in Greenfield, Lancashire. The company was founded in 1938 by brothers Vincent (RHS fellow) and Norman Hartley following their groundbreaking aluminium Greenhouse design, the first time (to our knowledge) aluminium had been used in Greenhouse construction and marking a huge improvement on its wood and wrought iron Victorian forerunners. Today, Hartley Botanic's reputation has been built on 85 years of English craftsmanship, creating Glasshouse and Greenhouse structures known for their enduring strength, quality and performance. It is the Greenhouse manufacturer of choice for leading horticulture organisations, institutions and designers in the UK and worldwide with Hartley Botanic commissioned by the RHS, the National Trust, Kew Gardens, Glasgow Botanic Gardens, Massachusetts Horticultural Society and Oxford Botanical Gardens...to name a few. In February 2017 Hartley Botanic became the only aluminium Glasshouse and Greenhouse manufacturer to be endorsed by the RHS. 
Company approach 
Hartley Botanic combines modern advances in design, engineering and technology with old fashioned values and techniques which enhance its products and customer experience. Despite using cutting-edge machinery in its Greenfield factory all Hartley Botanic Greenhouses are still 'handmade,' being assembled entirely by hand with precision parts still being made using traditional, hand-operated equipment. The customer service experience is also both hands-on and highly personal with Hartley Botanic providing 360-degree support, from the Greenhouse design phase through to installation. Vincent and Norman Hartley's vision in 1938 of lasting quality and ambition in making the finest Greenhouses money can buy remain key pillars for the company. Customers purchasing a Hartley Botanic Glasshouse or Greenhouse are making an investment which will stand the test of time, span generations and be robust enough to travel well. 
Greenhouse products 
Hartley Botanic's Glasshouse and Greenhouses are all made to order and range from small patio models to imposing Glasshouses. Designs are available from 3 product ranges (Victorian, Heritage and Modern) with all models available in a variety of colours and sizes, along with options for 'glass to ground' installation, free-standing or lean-to and internal glazed partitions. Standard for every Hartley Botanic Glasshouse and Greenhouse are: 
- 30 year 'lifetime' guarantee which covers both the structure and installation 
- Bespoke solutions to suit particular horticultural requirements 
- Full installation service or choice of self-assembly for select designs 
- Polyester powder coated paint finish 
- Top hung opening lights for advanced, efficient ventilation* 
- Single glazing in BS6206 tempered safety glass 
- Glazing in individual frames 
- No glass to glass or glass to metal contact in glazing 
- Unique clear span roof design (no internal support to impede space)* 
*not relevant to the Patio Greenhouse 
Accolades and awards 
In April 2021, Hartley Botanic was awarded a prestigious Queen's Award for Enterprise in the International category as a result for the stratospheric growth of its business internationally. 
In 2017 Hartley Botanic's entire product range was endorsed by the Royal Horticultural Society (RHS.) 
The manufacturer's RHS Flower Show stands are award winning, year after year: 
• RHS Chelsea Flower Show – Awarded the Director General's Linley award twice (including in its inaugural year), awarded 5 Stars or the Silver Gilt Show Garden award every year since 20141, awarded Best Show stand in 2014 
• RHS Hampton Court Flower Show – Awarded 5 Stars in 2018 
• RHS Chatsworth Flower Show – Awarded 5 Stars since the show's inauguration in 2017 
• RHS Tatton Park Flower Show – Awarded 5 Stars in 2018 and 2021, awarded Best Tradestand in 2021