Monday, January 13, 2020 - 10:00
The Wheat Bag Company pride ourselves on manufacturing quality products in the UK.
We have our own in house designers who design our own bespoke fabrics that we use to make our Microwavable Wheat Bags, PADi Pillows and a range of textiles products.
Our Microwavable Wheat Bags are filled with English wheat and lavender and are comforting, warming and relaxing and a natural way to soothe aches and pains. They are available in a large selection of designs with finest English lavender buds or unscented. We also offer bespoke eye catching wooden display units free of charge to display our products.
Our unique PADi Pillows have proven to be very popular, they are perfect to use at home, in the office or on public transport. The ultimate accessory for a tablet, ipad, ebook, books and phones and keeps your devise stable at almost any angle. It can be used on any surface, including a lap.  Great for travelling and doubles up as a travel pillow. Over 50 designs available to suit all tastes and ages.
All our products will be on show at Top Drawer Olympia 12th - 14th January stand number N36 and The Spring Fair, NEC 2nd - 6th February stand number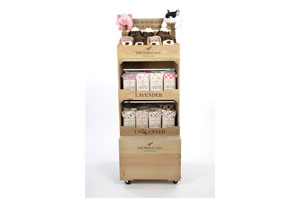 4D111.
Tel 01747 840499
www.thewheatbagcompany.co.uk

Aromaglow Ltd trading as The Wheat Bag Company
Unit 1 St. Martins Courtyard, Chapel Lane, Zeals, Warminster, Wiltshire BA12 6NZ
sales@thewheatbagcompany.co.uk
www.thewheatbagcompany.co.uk
01747 840 499
Company Number 11627429