Friday, April 24, 2020 - 13:14
According to new research from leading tool firm, Draper Tools, many people across Britain are finding DIY and gardening to be therapeutic right now, with several garden jobs cited as being 'strangely satisfying' in the current climate.
Planting seeds, bulbs or plants in the garden topped the list of the UK's most satisfying DIY jobs. The Draper Tools study also found that mowing the lawn, jet-washing the patio and perfectly trimming a hedge were among the most enjoyable tasks too. Others love painting a fence and digging out troublesome weeds.
Kev Smith, Head of Marketing at Draper Tools said: "While it's true that we are living in unprecedented and uncertain times, it does appear that many people are trying to find the silver lining in all of this and using the time at home to take on new DIY projects or tackle long put off home and garden jobs. In fact, just over half of those in our survey, told us that making their home a nicer place to be is a priority right now."
The study revealed other jobs that bring satisfaction include laying grass turf, using power tools, and sawing wood.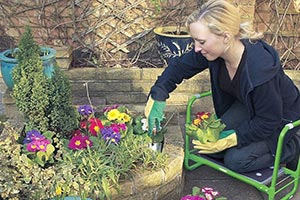 Just under a third of adults (31%) have spent time watching 'oddly satisfying' DIY videos online, like filthy patios being slowly blasted clean. The same amount also believe DIY and gardening is one of their favourite ways to relax and switch off from everyday life.
In fact, during a typical week, the average person spends more than two hours watching DIY programmes, with three in 10 finding them 'relaxing'.
They'll also take nearly three days off each year to tackle jobs that need taking care of around their homes and gardens.
However, with the majority of the population now working from home, seven in ten people feel the next three months will be the perfect time to start a new DIY or gardening project.
A quarter of Brits plan to clean their patio, while just under four in 10 have some garden weeding to attend to. Almost three in 10 want to tidy their garage or shed, and 15 per cent are planning to go through their toolboxes and sort them out.
45 per cent of people say they are planning to have a general garden tidy up in the next three months and two in ten say they'll be painting outside walls or fences. Just under a quarter plan on some garden pruning.
Kev Smith of Draper Tools added: "That's the great thing about DIY and gardening – the jobs can be as big or as small as you want them to be."
"And while not all of them are satisfying while you're doing them, there is always satisfaction to be had at the end of a project."
"No matter how stressful our lives are, or whatever's going on in the world – seeing something you've planted growing successfully is always going to feel great."
THE TOP 40 MOST SATISFYING DIY JOBS
Planting seeds / bulbs / plants
Mowing the lawn
When flatpack furniture slots perfectly into place
Weeding
Jet washing the patio
Painting with a roller
Hanging up a picture perfectly
Painting a fence
Painting the final layer of paint
Oiling a noisy hinge
Stripping wallpaper
Filling in holes with polyfilla
Polishing surfaces until they shine
Fixing something with glue
'Cutting in' – perfect lines when painting
Getting wallpaper perfectly lined up
Trimming a hedge perfectly
Getting a shelf perfectly lined up
Hammering nails into wood
Smashing down walls
Using a drill
Organising tools
Successfully removing a screw which has lost its thread
Using power tools
Sorting through a massive pile of screws/nails and finding the one you need
Using a tape measure
Sanding wood
Sawing wood
Varnishing furniture
Cleaning paint off a paint brush
Fixing a crooked shelf
Laying grass seed
Using sealant
Cutting a tile so it fits perfectly
Plastering to a smooth finish
Laying grass turf
Planing wood
Fixing a wonky floorboard
Perfectly laying a patio
Watching paint dry
To find out more about the latest research from Draper Tools or the expansive range of gardening tools and essentials available please visit www.drapertools.com