Friday, April 24, 2020 - 11:25
Leading quality wild bird and pet food producer, Henry Bell & Co, is sharing its top tips on what to feed wild birds at this time of year. Spring is an important time for wild birds, as it is the season for egg development and for young birds to receive the right nourishment as they grow. It's also important to look after parent birds to help them raise their chicks successfully. 

Henry Bell & Co is a fourth-generation family-owned British business that produces quality animal feeds. The company launched its own range last year, Henry Bell Wild Bird Care, which features 120 quality products catering for every type of garden bird, all designed with health and wellbeing of birds in mind. Henry Bell has made sustainable packaging a priority with all their Wild Bird Food packaging being 100% recyclable.

Henry Bell's top tips on the right types of bird food for this time of year - by Tony Clare, Commercial Director of Henry Bell Wild Bird Care: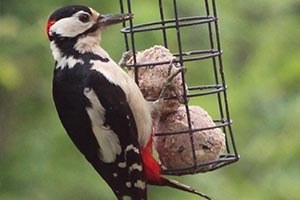 1. Nutrient-rich food: To help with egg development, a calcium boost will be welcomed by birds. Suet is rich in nutrients and is a great way to meet the dietary and health requirements of wild birds. The best format is Suet Bites. This highly nourishing, energy rich option is enjoyed by a range of wild birds, particularly smaller birds, as it is easier for them to eat.
 
Henry Bell offers Berry or Mealworm Suet Bites in a variety of pack sizes to suit all needs. These can be used in wild bird feeders, on bird tables and ground feeding. Prices start from RRP £3.99 for 500g up to £9.99 for 2kg. Henry Bell also offers Superior Suet Bites, Suet Cakes and Superior Suet Cakes, and Suet Rolls. 

2. Chick protection: The most important thing to remember at this time of year is to put peanuts in a rigid mesh feeder. This is because peanuts can be harmful if adult birds feed them to their nestlings, as large pieces of nut can choke baby birds. The same goes for fat and bread. Putting wild bird food into feeders allows the right sized pieces of food to be taken to their offspring. Better still, choose seed mixes which are smaller and packed with energy and nutrition to keep wild birds all fuelled up no matter the season.

Henry Bell has a variety of seed mixes, including a Superior Seed Mix (RRP £1.99 for 1kg – £9.99 for 12.55kg); a No Grow Mix (RRP £3.99 for 1kg - £17.99 for 12.55kg); and a No Mess Mix (RRP £2.99 for 1kg – RRP £15.99 for 12.55kg). 

3. Parent growth: In springtime, parent birds need as much as help as they can get in caring for their young. You can provide this with a rich protein source like mealworms. This highly nutritious protein snack is loved by Robins and is very popular with most garden birds. Put feed out regularly and always ensure that there is plenty of fresh water available. Temporary food shortage can occur at almost any time of the year, and if this happens during the breeding spring season, it's vital to support wild birds with extra food. This will make a big difference to the survival of young. 

Henry Bell offers Mealworm in 100g (RRP £3.99), 500g (RRP £9.99) and 1kg (RRP £19.99). Mealworms can be enjoyed from the ground, the bird table or bird feeder all year round. All Henry Bell Mealworm packaging is recyclable.

4. Popular springtime birds: Greater spotted woodpeckers give one of the loudest and most recognisable sounds of spring. This iconic bird can commonly be found on the side of a tree drumming the bark with their powerful beak. Their distinctive drumming sound tells us when the male is ready to attract a mate – single males can drum up to 600 times a day. Peanuts are a recommended food for woodpeckers as they are a powerhouse of energy. 

Henry Bell ensures their peanuts are of the highest quality and tested for Aflatoxins. A traditional bird food, peanuts are very nutrient rich and loved by a wide variety of birds. Henry Bell Peanuts come range from 1kg bags (RRP £4.99) to 12.55kg (£34.99). These can be placed in Henry Bell's Heritage Squirrel Proof Peanut Feeder (RRP £24.99) which will keep nuts away from the mischievous garden friend, the squirrel.