Wednesday, February 12, 2020 - 09:20
Emma Bryan is an independent greeting card publisher supplying contemporary paper goods to businesses around the world.  Emma's hand-painted illustrations and distinctive colour palette are at the heart of her business and her designs are full of pastel hues, hand-painted florals, and inspiration from the natural world. 
"I'm surrounded by British birdsong and flowers all day in my garden studio, so it is no wonder they find their way into my designs but I enjoy exotic flora and fauna too.  I live in an area of Surrey which has the largest population of wild parakeets in the UK, and they often descend on the garden en masse, disturbing the usual quiet visitors. It won't be long before they make it into a design, I'm sure!"
A former graphic designer, Emma followed a long-held dream to retrain as an illustrator in 2016, and after an art retreat to Sardinia in 2017, found her way into the friendly world of greetings cards, rather than publishing, as she had envisaged.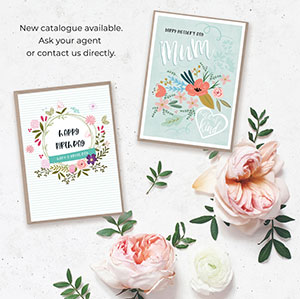 "It is a joy to be able to create something that brings such immediate pleasure to everyday life and I take great care designing products that I would like to use and receive myself.  I love the idea of a greeting card as a small canvas bearing an important message.  I have kept many special cards given to me over the years - even framed a few - and I hope that some of my cards will be special enough for someone to treasure." 
All designs start life in Emma's sketchbook before a little digital magic brings them to life on products.  Emma has a small team of carefully selected UK partners and she oversees every detail of production from printing to packing the final products.  Cards are printed in the UK on FSC approved beautiful 350gsm matte board and are supplied "naked" (without plastic unless specified) along with a ribbed kraft envelope to produce a fully recyclable quality product. 
If you would like to see more of Emma's designs, or receive a catalogue, please speak to your agent or see them in person at PG Live in London on 2nd/3rd June.  Get in contact if you would like an invite. 
Emma Bryan
hello@emmabryan.co.uk
www.emmabryan.co.uk