Thursday, November 12, 2020 - 09:56
Nestled on the North Norfolk coast in the picturesque village of Cley next the Sea you'll find Red Hare Publishing, a small but growing independent business, supporting British artists and manufacturers.  

Red Hare is the sister company of the long-established and much respected Pinkfoot Gallery, also based in Cley.  The gallery, founded over fifteen years ago, has been representing well-known British artists since its inception, including names such as Robert Gillmor, the grandfather of British wildlife art and creator of the RSPB logo.  The collaboration between these two companies allows Red Hare priority access to a plethora of artworks from gallery's artists, allowing them to make stunning ranges of cards, stationery and homewares.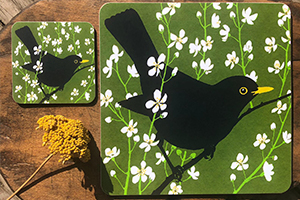 Quality is at the heart of everything they do.  All of their products are designed in-house and, with the exception of their birchwood trays, are made in the UK.  The trays are made by a family owned and run business in Sweden.

Promoting nature has always been one of Red Hare's highest priorities. "It's a joy to work with artists who enjoy championing the environment, portraying it in a fresh and contemporary way" says Red Hare founder, Sarah Whittley.  Both companies strive to be as environmentally and ethically aware as possible.  You'll find they use FSC certified card and wood for all their products, and their greetings cards come in compostable cello wraps.
Undaunted by the challenging trading conditions of 2020, Red Hare has continued to grow.  January 2021 will see the launch of their exciting new range of Coaster Cards, a gift and a card in one.  

For further information, or to set up a trade account contact Emma at info@redharepublishing.co.uk
https://www.redharepublishing.co.uk