Protek Friendly Paints
Wednesday, March 3, 2021 - 10:09
For over 30 years Protek have been manufacturing water- based timber treatments that are child, animal, bird, bee, and plant safe from their factory in Somerset.  When everyone else was selling creosote (remember the smell and the industrial style gloves??!!!) they started selling water -based timber treatments.   A breath of fresh air- literally.
 
Today the environment is still at the heart of their family business.
They are always looking for new ideas that could improve the wood stains and paints and that includes the packaging.  In 2020 they moved 80% of the range into tins, which could be recycled and therefore reduce landfill. The new pack designs are modern, bright, and aspirational. They also include an easy look up icon guide, which allows the customer to see at a glance whether a product is suitable to be used.
All their products are water based, low odour, Low VOC (Voluntary Organic Compounds) and low toxicity.  
The products are regularly checked against industry standards.
In January, all their wood stains and paints, once again, passed the European Toy Safety Standard (EN71 part 2 and 3) which measures flammability and toxicity.
(EN71- 2 measures flammability. It looks at several different factors that could lead to injury of a child due to flammability,
 
EN71-3 measures migration of toxic element test. This regulation focuses on the chemicals contained within and the levels which are present.)
 
These results mean that customers do not have to sacrifice safety when choosing their colours or paint finish.
Children
Whether you are painting Wendy houses, climbing frames, treehouses, slides, sand pits or toys you can do it secure in the knowledge that the paint is safe to use and 'child friendly'.
One toy brand that uses Protek's Wood Stain and Protect range is Toys by Nature.  Kate has a delightful Instagram account @toysbynature. This lovely family brand produces gorgeous wooden toys that are both beautiful and timeless like this rainbow wooden rocker, pictured here. Wood Stain and Protect has over 36 vibrant colours to choose from so you are spoilt for choice.  
Pets
wood stains and paints are animal friendly. As they have passed EN71-3 which re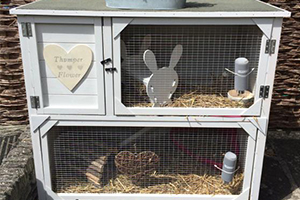 ports no traces of chemicals harmful to animals making them safe to use as well as being suitable for animal housing.  
 
So, you can give your rabbit hutch or stable a new coat of paint and create a stunning new home for them in the knowledge that it is as safe as houses!
 
Please note Protek recommend that the treatment is allowed to fully dry before the animals are introduced.

Bees
Pictured – Gruff who has an Instagram account @gwenyngruffydd. They have over 100 hives at their honey farm in Carmarthen.
Gruff uses Wood Stain and Protect to paint his hives but any of the wood stains would work as they are all Bee Friendly.
IMPORTANT – Do not use Wood Preserver Plus Plus as it contains an insecticide to prevent woodworm, that could damage bees.
Birds
All the products are Bird Friendly, and perfect for painting a bird box or table. In the past the products have been endorsed by RSPB and used for bird boxes at National Trust Properties.
If you care about the environment – Stock Protek.

The Range
The range is very comprehensive with a good choice of products at different price points and finishes.
The entry price point is Shed and Fence at £10 for 5 litres. This good value stain is perfect for smaller budgets or for covering a large surface area inexpensively.  
Decking Stain starts at £28 for 2.5 Litres.
Timber Eco Shield was introduced into the range in 2019 and has become an instant hit.  Very easy to use. Prices start at £13.99.
Stable Coat. This specific wood stain has been designed for stables. It is used by some of the top yards in the UK. Prices start at £28.99.
Wood Stain and Protect is available in over 36 colours and gives a stained appearance to the wood. From £10
Royal Exterior.  There are over 64 colours to choose from. The finish provides a painted look.  Prices start at £17.99.
Royal Interior is the Royal Exterior sister product for internal use ideal for inside Wendy-houses or workshops. From £17.99.
Royal Metallics- gives a good shimmer and shine to a woodwork.  Available in gold, silver, bronze, and copper. From £17.99