Tuesday, October 13, 2020 - 15:30
We've cracked it! The perfect stocking filler this Christmas, to tick all the boxes, is the daft and hilarious Bewilderbeest Wild Bites calendar. Light and flat to post, the calendar will hang on the wall all year round, and will bring a smile (or at least an eye-roll over a bad joke) every day.
Finding thoughtful and memorable gifts will be on people's minds more than ever this year, as it may not be possible to meet with friends and family in the usual way this Christmas. Something unusual, with a decent dollop of humour thrown in, will be just the ticket to spread a little festive cheer.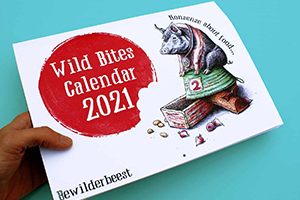 Calendars are as popular as ever, especially ones that are more interesting than just several photos of mountains. We can 100% guarantee that the Bewilderbeest Wild Bites calendar 2021 doesn't have a single mountain in it. What it does have though, is 12 months (yup, we counted them) of detailed and genuinely funny illustrations, based on classic recipes.
Classic meals like Coronation Chicken, Beef Wellington, and Chocolate Mousse all feature, as you've never seen them before. January features a crocodile dressed as a French nobleman for 'Croque Monsieur', to give you just a flavour (pardon the pun) of what we're going for.
Each month features a highly detailed illustration, printed on sustainable high-quality paper. The thick, textured card cover feels rather fancy, and the calendar unfolds to A3 in size. There are entertaining daft days included throughout, such as 'Chocolate Covered Anything Day' (a real day), and 'Eat Without Cutlery' (a made-up day). 
There's plenty of space to write in your uncle Derek's birthday too, so don't forget!
Ideal for anyone who loves food (who doesn't?), animals, or fun. There'll certainly be plenty who love all three, and if they don't, then find them a calendar with mountains on it.

Wave at us for a trade catalogue!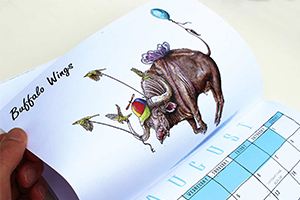 Email: info@bewilderbeest.co.uk | Call: 07742 895 283 | Website: WWW.BEWILDERBEEST.CO.UK

Link to calendar: https://www.bewilderbeest.co.uk/product/wild-bites-calendar-2021/