This Christmas Burgon & Ball has lots of great gifting ideas to help retailers put together a tempting array of must-have gifts for the Christmas season ahead. The Sheffield-based designer and manufacturer has launched more than 70 new products this autumn – and the fresh ideas include plenty of gorgeous gifts for gardeners and plant lovers.
Taking centre stage is the new Garden Supplies collection. The next generation of beautiful, stylish and practical gifts and sundries for gardeners, Garden Supplies is the successor to Burgon & Ball's hugely popular Enamelwares range.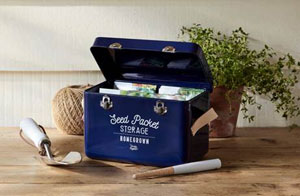 Key to the look of the new collection is the beautiful smooth lines of the new designs. Each piece is moulded in steel for a flawless, seam-free finish, bringing an irresistibly tactile appeal and a premium, contemporary look. The elegant curves are enhanced by natural details including handles in FSC beech or leather, and FSC beech lids, to tap into the trend for featuring natural materials around the home.
The new range includes a seed packet storage tin, a garden caddy, herb pots in a tray, a bird food storage tin, a twine dispenser, money boxes and lots more. And to reflect the trend for more utilitarian storage, a peg board makes it easy to keep those little essentials safely stored and always to hand, in shed, garage or home office. RRPs start from just £8.99, a perfect secret Santa or stocking filler price point, and range up to £24.99.
This Christmas also sees new gifts in the much-loved Sophie Conran for Burgon & Ball collection. This range combines a heritage of traditional country house style with contemporary touches, and is hugely popular with discerning female gardeners.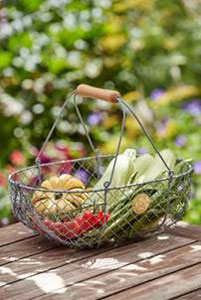 Additions to the Sophie collection include handwoven wire baskets which are a delight to use for gathering flowers or harvesting, beautiful embossed plant labels to create a 'country garden' feel to any herb patch, a charming garden clock and dial garden thermometer in a timeless buttermilk shade, and two new apple bird feeders to care for feathered friends in style.
The beautiful premium packaging of the Sophie Conran collection marks it out as a range of distinction, with gold foil details, leather cord ties and beautifully-printed card boxes to subtly accentuate the quality of the range. These gorgeously-designed new gifts for home and garden have been created to make everyday living just that little bit more stylish, and with RRPs ranging from £6.99 to £29.99, there's something here for everyone.
Burgon & Ball's new indoor pots make a beautiful and thoughtful gift for any plant lover, retailing at price points from £7.99 to £14.99. They're not just for indoor gardeners, though; with houseplants firmly in the design spotlight, these pots also make a perfect addition to any style-conscious home. To make life easy, they've even been designed to hold the most common sizes of plants sold in garden centres, creating plenty of opportunity for add-on sales.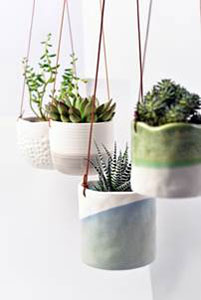 With designs including elegant glazed pots, on-trend hanging pots, and classic weathered terracotta pots, the new range brings more than a dash of panache to this fast-growing category. The collection also includes quirky cactus vases which make a real style statement and are sure to be a big hit with fans of these popular plants.
The Brie Harrison for Burgon & Ball collection of gardening gifts features beautiful illustrations of lush and leafy houseplants. The new range is contemporary, on-trend – and effortlessly stylish. Gardening gifts include a secateur and holster gift set; a trowel, snips and plant label gift set; a comfortable kneeler; gardening gloves; and twine in a tin.
There's also plenty here for anyone who simply loves gorgeous design around the home: an indoor watering can, a peg bag, a pencil case, a drinks tray, a storage tin, and a gorgeous umbrella to spread a little sunshine on rainy days.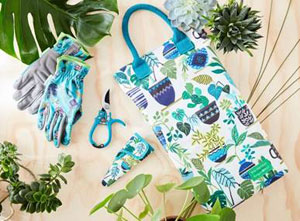 With RRPs from just £8.99 up to £19.99, the beautiful gift packaging makes the Brie Harrison collection stand out, with stylishly presented highest-quality gift boxes for the tool sets. Slide-out trays with ribbon pull handles, luxurious gold foil highlights and original artwork by Brie combine to make this range really special.
Other gorgeous Burgon & Ball gifting favourites include the elegant RHS Gifts for Gardeners Flora and Fauna collection, with its dainty songbirds and delicate foliage, and new additions this autumn to the Creaturewares range, featuring adorable animal characters.
With the perfect gift for every green-fingered loved one, Burgon & Ball is offering great gifting choices to retailers this Christmas. To find out more, visitwww.burgonandball.com, call 01202 684141, or email sales@burgonandball.com.