Thursday, April 12, 2018 - 09:14
Woodlodge, the UK's leading supplier of garden pots, horticulture products and garden ware, is leading the way this summer by setting the standard in customer support, product merchandising and introducing a new POS printing service.
Eye-catching POS Printing
To entice customers in-store, Woodlodge offer its own in-house printing service to create an eye-catching point of sale across all its ranges, which include Heritage Garden, Feather, Chelsea Terrace, Vintage and Rustic Garden.  Retailers can use this service to print targeted and personalised content that will convey Woodlodge's brand personality and engage with customers.  The print room works all year round creating banners, bench tape and promotional material for each range and changes for each season to keep artwork and themes refreshed. POS can be printed to any size and specification, no matter how big or small the display, to stand out positively and ensure the wow factor. 
Also available is effective benching and display stand solutions which are also made on-site.  Built to order for customers, the timber stands help to develop a strong focal point in the plant area and create retail theatre in store. POS around the benches, on the pot label or packaging, plays an important part in enabling the purchase.  These are printed exclusively for the store by Woodlodge, enabling effortless integration with EPOS systems.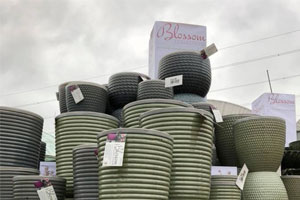 Merchandising
Additionally, Woodlodge's team of expert merchandisers travel the length and breadth of the country to work closely with garden centre staff, helping them to decide how the products can be best displayed, as well as providing the stands, refreshing the POS and cleansing the stock.  Centres that have worked with Woodlodge's merchandisers on a regular basis have seen instant results with stylish, attractive displays that hold a shoppers' interest, whilst turnover has also increased as Woodlodge's product ranges has been displayed to their full potential. 
Services such as Woodlodge's POS printing are representative of the high level of service that underpins everything the company does. Services such as these can be also attributed to Woodlodge's period of phenomenal growth over the last four years, with sales increasing from £11.5 million to £20 million last year.  Last January, Woodlodge won the prestigious accolade of Supplier of the Year, voted for by members of the Garden Centre Association.
New ranges for 2018 include Woodlodge's include Feather, a collection of lightweight pots made of recycled plastic and painted different colourful glazes; Driftwood, new shapes and colours in the Heritage Garden range, as well as the launch of charity pots for Greenfingers and Marie Curie.
Woodlodge Managing Director, Michael Wooldridge said:
"We understand that our stockists want a service that is reliable, available and delivered on time. We introduced our national merchandising team and POS printing as part of this to help retailers maximise their sales of Woodlodge products. We encourage them to take advantage of these support services to create great looking sales areas in their stores and generate revenue as we enter the peak season."
To find out more about how Woodlodge merchandising and POS service can help your store and their market leading product offering, please click here