There has been a rise in the popularity of farmers markets as people turn to their local suppliers in support of the local community because of Gazebos. In fact, research by Zoopla* highlighted how properties near a farmers market are likely to cost £87,180 more than the wider county area, showing the knock-on effects of this popularity. Stephen Evans, Managing Director at Market Gazebo World examines the rise of farmers markets in the UK and how gazebos play an important role in increasing footfall.
With the exponential rise of these markets in the UK, it has never been more important to stand out from the crowd and win over the competition, from the product offering to the look of the stall. Traditionally, market stalls have been the preferred choice, but with the demanding British weather and a weaker structure, these are just some of the reasons that have contributed to the demise and challenge of using these structures for traders at farmers markets.
Therefore, it is vital to have an effective stand in place, not only for the business but also for shoppers, as the stall can support both in a number of key objectives for traders such as affordability, portability and tradability.
So, what is the alternative solution for traders?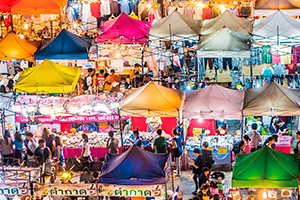 Gazebos are now becoming widely used as an alternative option for farmers markets. One of the key advantages of choosing a gazebo is cost. By selecting a brand new, durable gazebo, this can be the most cost-effective way of getting set up and started, helping traders to quickly turn their passion into a lifelong career.
Not only this, but the colour range of gazebos on offer means that traders can consider their branding when it comes to their stall to get their message out to consumers and create an eye-catching stand. This branding helps the shop front stand out and offers a professional outlook, providing a competitive advantage at such a popular event. A gazebo offers a full frontage meaning that you have more space to show off and sell your product offering. Traders are also at eye level with the shoppers and the products are in clear view, both aiding the ability to sell and helping to attract customers to the stall in the first instance.
With the British weather it has never more important for traders to have a stand that is durable and robust so that they can trade in all-weather conditions, and ultimately not affect their ability to attend a market, which could impact on sales and profitability. By selecting the gazebo framework in either powdered coated iron or aluminium, this will ensure a strong, robust structure, in comparison with traditional market stalls.
Conclusion
As we've seen with the rise of artisan farmers markets popping up across the country, an attractive stand can go a long way, with the gazebo becoming a popular option for many traders, thanks to its lightweight yet durable design. By recognising the needs of shoppers when it comes to the stall and selecting a gazebo for farmers markets, this can not only help with profitability, but also aid the brands marketing strategy too.                                        
For more information about G

azebos please click here