Monday, October 26, 2020 - 12:07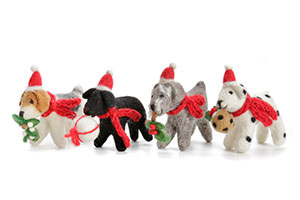 Here at Amica we are all about beautiful, handmade and Fair Trade felt.
We offer a variety of collections including Christmas & Easter decorations, toys and a home accessory range. All products are designed by the team at our studio in Bristol, then made with great skill and to the highest quality by a fantastic team of craftspeople in Nepal.
With Christmas at the centre of our product offering, we sell a whole host of characters from our gorgeous Fox Terrier, trusty Black Labrador and traditional Reindeer to our more exotic Christmas Guinea Pig, Mr. Fox & the very popular Diplodocus. As well as providing a whole variety of character decorations we have created several homeware items for the festive season including our hugely popular Mistletoe Sprig, Holly Sprig and Sprout & Pudding Garland.
All our handmade and Fair Trade felt is as environmentally friendly as possible
At Amica we take our environmental responsibility very seriously with this in mind we have been working very hard to make our products as environmentally friendly as possible. You can be certain that each and every item is biodegradable as well as remaining plastic-free. All toys have passed their BSEN71 Part 1, 2 & 3 toy safety testing and we are currently working on the best way to package our products with the environment in mind.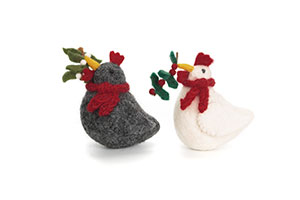 With 2021 fast approaching we are all set to introduce our exciting new range of branded tabletop and free-standing display units. This will allow you, the customer to purchase your chosen items and receive an eye-catching unit to display the decorations.
We are also looking to expand our all-year-round range with the release of our pocket-sized toys & display unit. This new product range will feature several of our most loved characters as well as some new ones joining the family making them perfect for those pocket money or impulse purchases. Again these toys are 100% wool and plastic-free making them a sustainable purchase for both supplier and customer.
Whether it's traditional, quintessential items you are looking for or something that is a bit quirky please get in touch. We are available via email: sales@amicafelt.com or phone +44 (0) 117 973 1780 and are more than happy to answer any questions you may have. Otherwise please visit our website www.amicafeltwholesale.com to explore our product range.