Founded in 1920, Barlow Tyrie is the world's oldest manufacturer of teakwood outdoor furnishings and respected worldwide in established luxury goods market. As a specialist manufacturer of Teak outdoor furniture, we remain the manufacturer of our very traditional English products. 
From humble beginnings in East London, Victor Tyrie and Frederick Barlow together with a few others started their own business in London, making outdoor furniture from Teak, which was sourced from the breaking of old timber ships, the foundation of the teak outdoor furniture industry. Initially in Walthamstow and shortly afterwards moving to a small stable behind a terrace of Victorian houses in Leytonstone and now we are fast approaching our centenary.
Designed to allow you to mix items from different ranges, our extensive teak collection offers great flexibility. It includes many award-winning designs that are considered classics within the garden furniture sector.
Why teak?
Teak has a naturally high oil content which makes it both stable and resistant to rotting when exposed to climatic extremes. For centuries these special qualities have made teak the preferred choice for marine decking and construction, making it the premium timber for outdoor furniture.
Teak (Tectona Grandis) is a deciduous hardwood tree which comes from managed plantations, not from tropical rainforests. We source our teak primarily from Indonesian government-owned plantations on the island of Java. Our subsidiary, P.T. Barlow Tyrie Indonesia, was set up in order to secure a continuing source of teak from these environmentally-sound plantations.
Despite our somewhat unreliable climate, more and more people in the UK are looking to extend their living and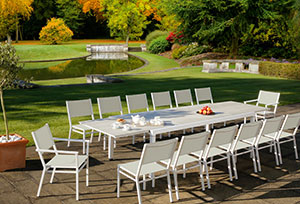 entertaining space into their gardens and terraces - whether they're in the city or the country. So it's more important than ever to offer a range of designs and materials to suit every size and style of outside space. 
We like to combine the timeless beauty of our teak, for example, with newer materials, such as Textilene®braided cord or Italian ceramic. And we now produce ranges in stainless steel, aluminium, and woven synthetics. The Mercury and Equinox ranges in stainless steel are proving extremely popular at the moment and, being lighter and more angular, these are ideally suited to the modern outside space.
But whatever the material, every range must be ergonomically designed and manufactured to the highest standards from materials that will last - beautifully.
Keeping it beautiful
Now that autumn is upon us, it's an ideal time to give your outdoor furniture its annual check-up. While all Barlow Tyrie furniture can be left out all year round, we do offer covers for most of our ranges. They are made using WeatherMAX-LT®, a modified highly UV-resistant polyester fabric offering superior strength and durability. These lightweight, one-way breathable covers allow trapped moisture to disperse, but prevent rain and dust from penetrating. The covers are easy to put on and remove and can be stored in their own pouch when not in use.
If your furniture is to be covered until next season, we recommend that you carry out your annual cleaning regimen beforehand. We offer care products that are easy to use and very effective. An annual or twice-yearly clean will be more than adequate in most instances to maintain your furniture in prime condition. 
Barlow Tyrie on show
We showcase our latest designs and most popular ranges at furniture and garden trade shows throughout the year - regular UK events are Solex in July. We're also a regular at the RHS Chelsea Flower Show each May - next year will be our Eleventh appearance.
In April each year we exhibit to the worldwide furniture trade show at Milan, and in September to the garden trade show at Spoga+Gafa in Cologne and to 'outdoor and casual living' retailers in Chicago.
We hope to see you at one of the shows next year - do please come and say 'hello'.
Barlow Tyrie Ltd. 
T: 01376 557 600