E. P. Barrus expands merchandising team
Thursday, May 16, 2019 - 10:21
Leading garden tools and accessories supplier E. P. Barrus has expanded its merchandising team to meet demand as the business continues to grow.
The latest recruit to the team is James Utton, who joins E. P. Barrus with years of experience in garden centre retail. James said: "I'm delighted to be part of the merchandising team at Barrus where I will be looking after the South East region of the UK. I have enjoyed my few weeks getting to know the business and the rest of the team have been a great help. Coming from a garden centre in my previous role has given me additional experience in setting up products in store and made me aware of the high level of service Barrus provides."
The highly trained merchandising team at E. P. Barrus have developed strong relationships with its customers and play a crucial role in supporting retailers with a professional, flexible merchandising service.
Mark Hewett, divisional sales manager for E.P. Barrus, said: "We are thrilled to welcome another member of staff to Barrus and feel that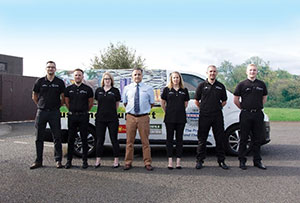 James' expertise is sure to make him a valued member of the team. Our priority is to continue to provide an excellent service to retailers nationwide as the company looks forward to continued expansion with a move to a new permanent warehouse later in 2019/2020."
The past year has seen a significant increase in the availability of brands including Town & Country, Wilkinson Sword, WOLF-Garten, WD40 and Energizer which are predominantly sold throughout garden centres across the UK. 2018 also saw the launch of over 150 new products at GLEE, the acquisition of 12,000sq ft of warehousing and a joint merchandising partnership with SBM Life Science.
(Pictured – E. P Barrus' Merchandising team left to right: Craig Stone, Scott Routledge, Terri Oxley, Ray Newman, Nicola Evans, James Utton, Sam Thompson)