What are the options a garden centre has to showcase lawn care products?
There are many different ways to merchandise lawn care products ranging from informative how-to product displays clearly showing consumers which product they should be using and when through to actual 'living' displays with examples of grass that has been treated with certain products to give a visual indication of the effectiveness of a product. Consumers, and particularly younger gardeners, are far more likely to make a purchase if they have had a positive shopping experience. Therefore creating eye catching and engaging displays is a great way to entice potential customers to come into store and make a purchase. 
Is it good enough to just keep them in packs on a shelf?
In short, the answer is no. Lawn care can be a daunting task for inexperienced or new gardeners and therefore they will look for expert advice not only from retail staff but also from the product displays themselves. Simply placing lawn care products on a shelf at the back of a store could potentially result in lost sales. By creating an eye-catching display that also helps consumers decide what product they need and when will be a far more effective way of guaranteeing sales. 
We are listening to our own advice when it comes helping you to present our brands, offering lifestyle products that inspire, rather than just garden essentials. By harnessing the latest trends in all of our communication, we are hoping to breathe new life and vibrancy into the category, appealing to a new group of consumer that has been notoriously difficult to attract in the past. Taking this into store, we are focusing on explaining the end benefits such as greener, thicker, healthier lawns and creating an emotional connection between the garden and special moments with family and friends. This lifestyle approach will invite consumers to stop, investigate the products on display, feel inspired and ultimately make a purchase.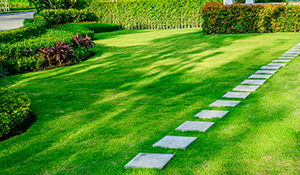 What would make a standard lawn care offering in a garden centre?
Garden Centers have evolved over the years into destination shopping areas, with a multi-layered range of goods and services including attractive restaurants, clothing departments and homewares. Garden Centers also attract a wide range of gardeners from the expert to novice and everything in between. Additionally, the average household size is shrinking and with it the average garden size is shrinking as well. A well-known and trusted for the high quality brand, such us Miracle-Gro®Evergreen®, with a full range portfolio, including all solutions and sizes will secure purchase as consumers will find what they want and they will be happy with the end results.
How can garden centres increase the sales in this category?
In very simple terms, understanding your customer and what they need is a great way to increase sales. Consumers want to have a positive shopping experience and come away feeling informed about the gardening task in hand and happy with the advice and information they have received, whether that be from store staff or simply the way the products are displayed. Therefore it is vital that you to take note of the kind of questions your are being asked about lawn care products on a regular basis as this may give you some powerful insight into which products are most in demand. You can then focus your retail space and messaging on those products. 
Another key way to increase sales is to make sure familiar, well-known brands are at the forefront of displays as consumers may be coming in to store with a predetermined brand choice based on what they have already been exposed to in terms of marketing and advice from other people. Our own consumer insight revealed that the Miracle-Gro® brand makes products even more credible and convincing and also highlighted that consumers already believed that our Evergreen® lawn care products contained Miracle-Gro®. Therefore, it made perfect sense to combine the forces of both these brands, creating a new lawn care product portfolio that will result in even stronger consumer confidence and increased sales - a win-win scenario for everyone.
In a nutshell, make it easy for the consumers to find what they want through clear on shelf categorisation, clear on shelf communication and clear consumer end benefits. 
What works best for a garden centre with limited space to dedicate to lawn care products?
Focus your attention on what works best in terms of well-known brands that encourage consumer confidence.Make sure the space you have is used effectively and do not try to over crowd the display area as this can lead to consumer confusion and lost sales. Informative product banners above product displays can also effectively communicate key messages to consumers so should be considered where space allows.
What are the key things a garden centre should do when deciding how to display lawn care products?
Following a few golden rules should help when deciding on how best to display products. Choice is great but too much can really overwhelm potential customers so keep the displays uncluttered and clean, with easy to understand product features and benefits clearly communicated. Make sure familiar brands are well displayed as consumers will have confidence in these products and use your displays to educate the consumer and encourage purchase. 
What are the key things they should avoid?
Lawn care is a year round gardening job so this category is potentially very lucrative for garden centres. Therefore it is important not to dismiss this product category as uninspiring and instead focusing all your retail space on products that are visually appealing such as plants, garden decorations and furniture for example. Make your lawn care displays as engaging as possible and avoid bombarding your customers with too much choice, instead prioritising brands that are familiar and proven to be effective will encourage repeat sales, year after year.
For more information visit www.lovethegarden.com.