Top Tips for Maintaining your Garden Furniture
Friday, May 6, 2022 - 16:19
Endless get-togethers can really put the heat on your wallet, especially if you take on the role of the host with the most. Like many Brits, if you'll be using your outdoor space as an entertainment hub this summer, there are so many ways you can update it without the mayhem or expense of a complete redesign. To help you save both time and money, here is a handy guide to extending the life of your garden furniture with minimal cost and maximum impact:   
1.         The Big Clean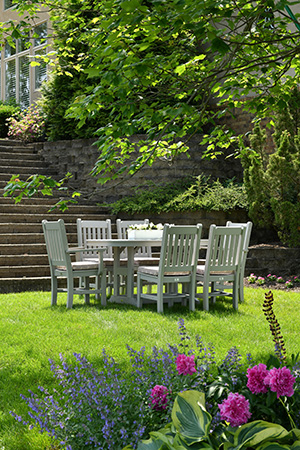 After the cooler months, it's essential to give your outdoor furniture a deep clean to get rid of the remnants of winter. Tidy up fallen leaves, dead branches and litter that might have landed in your garden. Pull out weeds from flower beds and trim the hedges too. Make your teak oil your core companion in the clean-up effort and use it to shield wooden furniture and keep it looking new. Using a rag, apply the oil, rubbing it in gently and following the grain. Also, to give the patio an instant facelift, use a jet or pressure washer to remove any stains, algae, mould or mildew.
2.         Maintenance Mantra
A report into garden hygiene by Dr Lisa Ackerly found that a garden table has as many germs as a bin lid! Plus, a studies have revealed that while many Brits dine alfresco in the garden several times a week over the warmer months, shockingly very few admit to cleaning their tables properly. To combat the threat of your garden table becoming a breeding ground for bacteria, try using a handy all-purpose cleaner, like Jeyes Fluid  before and after every use, or as you would your dining table.
Repeat after us: "I will clean my garden table before and after use. Every time."
3.         Bring Inside
British weather can be unpredictable. You can be basking in glorious sunshine one day and then torrential rain the next. This can have an adverse effect on your garden furniture. If your garden has fabric cushions, snuggly throws or anything cotton, be sure to bring them in after use. This is not only to protect them from any overnight rainfall but also the sun, which can lighten fabrics leaving bold print looking a little lacklustre. If you've noticed that your soft furnishings have lost their appeal, a brilliant DIY tool to spruce up dull colours is Dylon Dyes machine pods. The easy-to-use dyes can be used on most cushion materials (cotton, viscose, linen, canvas and ramie), and is a great solution for the 'make do and mend' era.
4.         Cover Your Furniture
After a day in the sun the last thing you want to do is store away your garden furniture, so why not just simply cover it with a heavy-duty and water-resistant plastic sheet to ensure it is protected from the unpredictable elements. Should this be your preferred option, be sure to leave enough room for circulation which will help prevent mould. Should you find a little mould build up that needs to be cleared, a simple home remedy of a quarter teaspoon baking soda with two cups of water, used with a spray bottle and a strong brush will work wonders!    
5.         End of Season Must Do's
At the end of the season, it's imperative that measures should be taken to protect your furniture over the winter. Do a post season inspection for rust on your metal furniture. If you find any, run a wire brush over the spots or scrub with sandpaper. To save yourself a chore next summer, why not repaint any wooden pieces, polish plastic ones and clean all furnishings before it storing away? 
For more advice on preparing your garden for the warmer months, heritage outdoor cleaning brand Jeyes has launched an 'Outdoor Oasis Calendar' to get you outside and into your garden for 30 minutes a day throughout the month of May. Now you can create your very own outdoor oasis in preparation for a summer full of gatherings and al fresco dining. The calendar can be viewed and downloaded on Jeyes' website here.