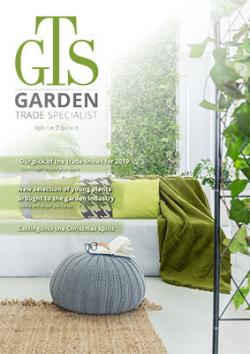 Spring has finally sprung – it was much anticipated following the Beast From The East and The Pest From The West – and it seems the season of new beginnings and fresh growth is welcome among traders desperate to get outside without the need for three layers and a woolly hat.
Not that you were all hibernating over the winter – far from it. This issue of Garden Trade Specialist is my first as editor, and I have enjoyed contacting many contributors to offer an insight into the business. 
Mike Lind from the Garden Centre Association talks to us about the GCA's efforts to raise the standards of garden centres across the country (page 6 - 7). With over 200 members and counting, the GCA shares best practice and Mike discusses the annual conference and awards ceremony which provided a massive boost to members earlier this year.
Business Doctor Martin Vessey tells us on page 8 how to grow your garden centre and ensure that critical elements such as competition, staff retention and exit planning are nurtured at all times.
Meanwhile, Hayes and Hillier got in touch to explain their success. The firms are very different in make-up – Hayes attracts 1million visitors a year at its centre in the heart of the Lake District and Hillier operates across the South with 12 garden centres – but they do have something in common in that both companies have operated for centuries. 
Moving from brands with history to the digital age, we have seen recently how technological advances are making life much easier for garden traders. George Williams, the man behind SmartPlant, tells us how his app can identify pests and even allows users to message experts with their gardening problems. 
Meanwhile, we have a range of experts talking about their innovative products and services, from anti-slip decking to eco-friendly fuel, and we also take a look at the Farm Shop and Deli Show on page 9.
I would like to thank advertisers, contributors and readers for their input on this issue and invite you to contact me on editorial@euromediaal.com with your news. You can find us online at gardentradespecialist.com, on Twitter @GardenTrade_Mag and on Facebook. There's even the chance to win a bottle of Champagne if you leave a review on Facebook. Good luck!