British summer can be temperamental at the best of times - one minute it's blazing hot sun and the next it's a torrential downpour. This kind of changing weather can be good for your garden, but tough on your shed or garden furniture. Offering its expert advice, garden building specialist, Tiger Sheds, has put together five tips on how to keep your shed looking its best all summer long.
1. Treat your garden shed with preserver
To get the best out of your shed, treat it with high-quality wood preserver at least once a year. Preserver is essential to prolong the life of your outdoor building - it protects the timber from the elements and helps to maintain its appearance and strength. 
2. Check your shed for damages
A sudden downpour is an unavoidable part of summer in the UK. Aside from being annoying, it can also be damaging for your garden building.
Check your shed regularly, especially after some heavy rain. Make sure that nothing has been damaged and that there are no leaks. It may sound simple, but tree branches unexpectedly falling or snapping as a result of a summer thunderstorm can cause rips in felt of the shed roof.
If you notice a leak, firstly try and work out where it is coming from. It could be a crack or hole somewhere, a rip in the felt, or it might be coming from the windows. Once you've located the source of the leak, you can take action. Wood filler can be used to seal small cracks, and you should replace ripped felt.
3. Make the most of the sunshine 
Summer is a great excuse to give your garden some tender loving care. Cleaning out your garden and shed is free, but makes such a huge difference to how much you enjoy time spent outside at home. There's nothing like relaxing in your garden on a sunny day or evening, so keeping it tidy and sorted is key.
4. Top up any paint work on your shed and fence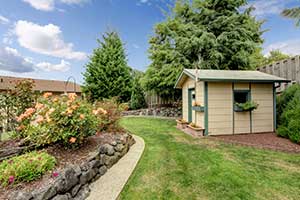 Painting is always more fun on a nice summer's day, rather than on a cold wet one. Plus, in the sunshine, paint dries much quicker! Why not take advantage of the sunny weather and give your shed, fencing and outdoor furniture a facelift?
If you're feeling adventurous, let your creative juices flow and try something different like using quirky stencils, alternating colours or exciting patterns.
5. Give your shed and garden a new lease of life 
Summer is all about spending time with family and friends. BBQs, outdoor parties and family gatherings are part of what makes sunny weather so great. So if you're having people over, why not impress them by giving your garden a new look? Try some new plants or paving, or maybe get some nice garden furniture to take your summer parties to the next level.
Kiarna Benson from Tiger Sheds said:
"Summer is a wonderful time to get together and enjoy the great outdoors. And where better to start than your own garden? Sheds, summer houses and outdoor furniture can really make or break your summer, it's important to look after them so you can make the most of the few sunny days that Britain gets!"
For more information and advice about Tiger Sheds or for your outdoor buildings, click here