Wednesday, June 13, 2018 - 09:40
Smart Garden Products Ltd are delighted to be included in London Stock Exchange Group's "1000 Companies to Inspire Britain" report.
The report is a celebration of the UK's fastest-growing and most dynamic small and medium sized businesses across the UK. 
To be included in the list, companies needed to show consistent revenue growth over a minimum of three years, significantly outperforming their industry peers. More detail on the methodology can be found in the report online at www.1000companies.com.    
"We're both flattered and delighted to be included in such a prestigious report" stated Jonathan Stobart, Managing Director of Smart Garden Products. "The business has grown fourfold in as many years, and we are focussed on trying to double the business in size again over the next 3-5 years."
Nikhil Rathi, CEO, London Stock Exchange Plc said:
"We warmly congratulate all of the companies identified in this year's '1000 Companies to Inspire Britain' report.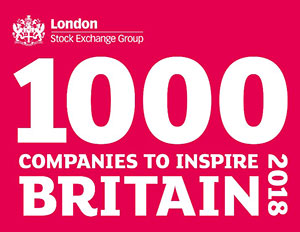 Five years on, the report continues to demonstrate the strength and diversity of British businesses across the country. These dynamic companies are the backbone of our economy, playing an important role in the UK's ability to innovate, export and grow. This report is a significant part of London Stock Exchange Group's broader campaign to support UK high growth companies. We are committed to championing British businesses and Britain's dynamic entrepreneurial spirit."
To find out more about Smart Garden's market leading product offering please visit www.sgpuk.com