Monday, February 3, 2020 - 15:29
Sustainability agenda to boost sales for Primeur in the 2020 season. Find out more from Jenny Douthwaite, Sales Director.
 
With sustainability becoming a hot topic and setting the long-term agenda for garden retailing, 2019 was a year that saw unprecedented growth for Primeur and rightly so.  The company's garden product range made from recycled rubber tyres won multiple awards and met the needs of the ever-increasing eco-consumer.
The success of 2019 culminated at Glee where Primeur showcased its full Eco-Garden range to the industry which, in turn, brought about many new sales opportunities, an overflowing order book, and more awards for its Tierra Verde planters in the Glee New Product Showcase: Best Growing Container category. The icing on the cake was Primeur becoming the first company to win the new-for-2019 Glee Eco Initiative Product Award. It is clear that the demand for recycled materials and Primeur's products will not be going away anytime soon, and sales in this area are expected to remain buoyant as Jenny Douthwaite, Sales Director at Primeur explains: 

What were the 2019 highlights for Primeur?
2019 was an amazing year for our new recycled rubber garden range. We were thrilled to be awarded our second GIMA award, as well as the Sword of Excellence for our Tierra Verde Recycled Rubber Planter range.  It was an amazing achievement for the team and has really helped to introduce us as a new supplier to the garden market, as well as introduce our wider Eco-Garden range.
Gaining this recognition has helped us to achieve 50% year-on-year growth across our existing ranges.  We are looking to build on this momentum throughout 2020 and to help us achieve our goals, we are pleased to now be working with Stax who will help us distribute our products to more customers and keep our ranges well stocked throughout the season.
How will Primeur capitalise on its 2019 success in 2020?
2020 will see the continued promotion of the Eco-Garden range which includes the modern and contemporary Tierra Verde recycled rubber self-watering planters.  Available in an assortment of silhouettes, these planters offer a practical, robust and sustainable solution for the home and garden.
We want our Eco Garden Border Collection to continue to push boundaries as a lightweight, environmentally friendly alternative to the standard wooden, stone and concrete borders normally seen in stores.  The borders come in a range of attractive designs and colours, and as well as being really durable these borders have the added benefit of being flexible to allow the edging to adapt to the contours and curves of a garden.
 
We will also be giving a push to our Eco Garden Stepping Stones which offer a much lighter alternative to the usual stone landscaping options, as well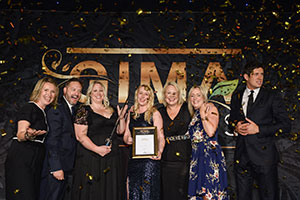 as being chip, crack, and mold resistant. 
 
What is Primeur's outlook for 2020?
With an increasing demand for products which are greener and more environmentally sound, we have a positive outlook going into 2020 as retailers embrace and encourage more sustainable gardening practices.
Over the next year, we plan to increase our marketing directly to the consumer, to highlight the eco-friendly credentials of all our ranges. New POS will help retailers to educate their customers on how the rubber tyres are repurposed into durable, long lasting products, as well as focusing on the benefits including being lighter, more flexible and indestructible in the garden. Retailers can also now take advantage of our new display stands which allow us to deliver these ranges fully merchandised, complete with POS allowing these to be put straight into store.
We are also, as always, working on new and innovative ways to incorporate recycled materials into our products and will look to showcase these at Glee 2020, ready to launch next year. However, these products are currently under wraps, so we invite customers to come to the show in September to find out more!
 
We're confident that 2020 will be another significant year of growth and are excited to see how the year develops.
 
What gardening trends are you most excited about in the coming season?
With the new decade dawning, one big theme has emerged and that is sustainability. Greener gardening has become a true movement as consumers continue to become increasingly conscious of the benefits behind a reduce-reuse-recycle mentality. 
We are looking forward to seeing how other companies will tackle the eco-friendly aspect of the market.  It will be interesting to see how they will incorporate the use of waste materials into the manufacturing process , and how this will shape design trends moving forwards. We also welcome the prospect of manufacturers and end-users working together to enforce positive change such as reducing plastic usage, and how the consumer influence can really change the way we develop products. At Primeur we welcome consumer feedback and will be keeping a close eye on consumer trends to ensure our ranges continue to appeal.
What do you think the future holds for the garden industry and how is Primeur rising to the challenge?
The eco revolution is massive and most certainly here to stay. Mass action on climate change and pollution has become mainstream as more and more people become aware of the issues our planet faces and want to do their bit to help lower their impact.  There is a new generation who are even more focused on this and we as an industry must make a conscious decision to recycle, create less waste and reduce the carbon footprint. 
Primeur has brought to market a full range of garden products made from waste tyres which offers retailers a unique selling point when it comes to sustainability. We will constantly be developing new products to grow the range and we are always looking at ways to reduce waste out of the business.  We are already focused on converting many of our doormat ranges to environmentally friendly versions, with the introduction of recycled backings and recycled materials on the mat surface.  We also will look to use only recycled materials for packaging where possible.
 
Find out more
To find more about Primeur's Eco Garden range, as well as how to access its new merchandising displays, please contact the team on 01274 518800 or email sales@primeur.ltd.uk