Thursday, February 27, 2020 - 10:31
THE category with the biggest increase in sales during last year (2019) at garden centres across the country has been announced by the Garden Centre Association (GCA) as part of its Barometer of Trade (BoT) report.
 
Houseplant sales saw a year to date increase of 17.6% compared to 2018.
 
Iain Wylie, Chief Executive of the GCA, said: "We're not surprised to see houseplants as the fastest growing category at garden centres across the country in 2019. Demand for them has been phenomenal.
 
"On a monthly basis, houseplants came out on top during January, May, August, September and October.
 
"The trend has really taken off amongst the Millennial generation, with millions of posts on Instagram being tagged #houseplant.
 
"It's now trendy to have houseplants dotted around the home and research has shown that people like to have something to nurture, love and care for. We also see houseplants having a resurgence with the older generation, especially for those who live alone, who would like something to look after.
 
"Having a houseplant in the home is also good for you. They can help people to de-stress and detox. They also, according to research by NASA, help filter out chemicals from the atmosphere as well as helping to reduce dust. We think everyone should have at least one houseplant!"
 
Hard landscaping also did well in 2019 with a year to date change of 15.56%. Outdoor plant sales were up 5.56%, seeds and bulbs were up 9.63% and garden sundries were up 8.02% compared to 2018.
 
Furniture and barbecue sales saw a year to date change of 4.06%, pets and aquatics were 8.53% up and gifts were up 5.13%. Christmas sales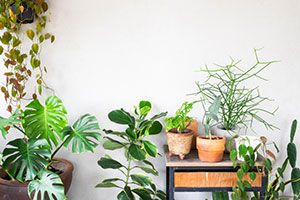 were up 4.48%, food hall and farm shop sales were up 4.53%, clothing was up 5.56% and catering was up 10.61%.
 
Overall sales for the year 2019 were up 6.97% compared to 2018.
 
Joe Aldworth, Marketing Manager at The Old Railway Line Garden Centre in Wales, which won the award for Best Customer Service at the GCA's annual conference recently, said: "Last year (2019) was another record year for us with garden centre sales up 14% and catering increasing by 16% compared to the previous year.
 
"Although the garden retail industry is heavily influenced by the weather (of which we faced some disruptive periods of snow and bad weather in 2019) we did buck the struggling high street retail's trend for another year.
 
"Catering has again provided a vital backbone of the business, driving footfall even when weather is unfavourable. Houseplants also experienced strong growth for another year, with a 38% sales increase compared to 2018.
 
"Over the past few years we have worked hard to encourage new demographics to the garden centre, as well as promote the environmental and well-being benefits of gardening and having plants indoors."
 
The GCA BoT reports are compiled using actual sales figures and provide an up-to-date trading position statement. They are made available mid-month following the end of the prior month after all member garden centres have submitted their results.
 
The BoT reports allow members to compare their trading positions with other centres.
 
The GCA represents nearly 200 garden centres nationwide.
 
For further information, please call 01244 952170. Alternatively, please visit www.gca.org.uk, log on to www.facebook.com/pages/GardenCentreAssociation or follow the organisation on Twitter at www.twitter.com/GC_Association.