Wednesday, February 28, 2018 - 13:41
A TRADITIONAL foundry has diversified to manufacture stunning garden furniture and has already despatched orders across Europe.
When Lancashire-based Glen Castings was incorporated in 1972 its core business was creating products for the building and drainage trades.
Jim and June Butterworth founded the business and when their son Alan joined the company in 1973 it was supposed to be just for six months as he planned to join the army.
However, he stayed and for the last 30 years has been managing director of the business, which is now based in Burnley Road, Bacup.
Alan spotted that acclaimed Ironbridge foundry Jardine Leisure was selling its gravity die cast moulds for its range of garden furniture and he realised the potential for his business.
He said: "Jardine was a foundry which had an excellent reputation. It was established in 1963 and the furniture it created was durable, of excellent quality and has been photographed with many famous people, including John Lennon and Yoko Ono.
"The opportunity to buy the moulds came at just the right time for us."
When Glen Castings was preparing to exhibit at the Birmingham NEC for UK Construction Week, Alan took the unusual step of taking down some of the garden furniture to show alongside his company's more familiar products.
He said: "The Jardine designs are instantly recognisable and proved to be a big attraction.
"They showed the scope of what we could do as a foundry and as a result we were approached by bathroom manufacturer Thomas Crapper to make a bespoke cistern."
The company has also had an order from Sweden and supplied a table and eight chairs to Cyprus.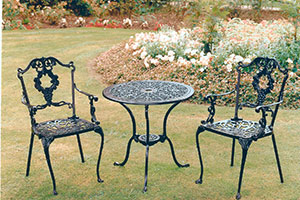 An exhibition was held at the Royal Berkshire Show and this year Glen Castings will be showcasing the furniture at the Royal Horticultural Society Show in Cardiff and closer to home at Tatton Park in Cheshire.
Alan said: "Everything we do is manufactured in Bacup and unlike imported goods is made of solid aluminium with a 10 year guarantee – foreign imports are usually made with thin tubular legs and hollow arms.
"We use a contractor to powder-coat the aluminium and it is all finished by hand."
The products are traditionally sold in black, white, green and granite, but customers can select their own colour.
The business is looking to get the products into garden centres and sells online at www.jardineleisure.co.uk or contact 0845 260 0024.