Wednesday, November 27, 2019 - 09:20
Specialist water-based paint manufacturer Thorndown, bring long-term colour and style to garden design. Their paints are made to the highest specifications using raw materials at the forefront of environmentally considerate water-based technology. 
Colour plays an essential part in garden design and the use of wood paint to decorate and protect timber buildings and features is seen prominently in gardening magazines and on TV programmes such as "Love your Garden" with Alan Titchmarsh.
Selecting the right colour can be a personal and pain-staking journey so when you've got that perfect colour, you don't want it to start to fade after a couple of months. Thorndown use architectural exterior grade VOC free colour pigments that perform at the highest levels in light-fast and weather resistance tests so colours stay true for years. 
In addition to using really high-quality colour pigments, Thorndown also has a RAL tinting machine and can offer over 1800 RAL Classic and Design colours.
Although designed for exterior timber this high-performance paint is also perfect for interior woodwork. With low odour and virtually no VOC it is a pleasure to use even in confined spaces, requires minimal prep and no top coat. Being so durable it provides a really hard-wearing coating on all types of wood from garden furniture to interior furniture, doors externally and internally, decking and floors. High levels of resin produce a highly water-repellent coating that makes it the perfect choice for use on cladding whether that be on your building or in the bathroom.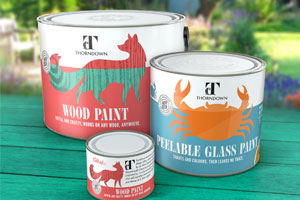 They also manufacture a unique Peelable Glass Paint using a 100% recycled plastic resin. Originally developed for greenhouse shading this paint is also perfect for conservatory shading, security and privacy screening, plus arts & crafts. Applied by paint roller to greenhouse windows it provides attractive shading throughout the growing season and when it needs to be removed, can be peeled off in an entire sheet! Gone are the days of ugly paints and hours spent scraping it off.
Made to the same high eco-standards and with the same high-grade colour pigments, it can be used inside and out of the home. If you like it and don't peel it off it will last for years.
Being water-based, non-toxic, low in odour and with virtually no VOC it's a great paint for all ages and endless uses. Look out for the range of Stencil Craft Packs coming soon!