It's official! Wales's Moody Sow Farm Shop makes the best Welsh Lamb products
Moody Sow Farm Shop in Wales is celebrating after winning a Diamond Award for the Welsh Lamb product in the UK's most prestigious competition for craft butchery products – The Smithfield Awards. The event, which is held annually by the Q Guild of Butchers recognises and rewards the excellent products that are being produced by the very best butchers in the country.
Butcher Christian Regan, whose winning product was Welsh Rib Eye Crown Steak, was awarded his trophy by BBC broadcaster and food expert, Nigel Barden at a sumptuous luncheon ceremony at Stationer's Hall in London yesterday. Christian says the lamb, which is on sale at the shop at Cefn Mably Farm Park, Began Road, "is bursting with juicy, rich flavour. The coveted cap steak is carved from the most prized part of the Ribeye and is known for exceptional marbling, flavour and tenderness. It is perfectly trimmed with generous interior marbling for that signature juiciness."
Artisan butchers from across Britain were recognised in 18 other categories, which ranged from Traditional Pork Sausages, Burgers, Pies & Bakery, and Bacon to Ready Meals, Gluten Free Products and Beef and Lamb products in Scotland, Wales and England.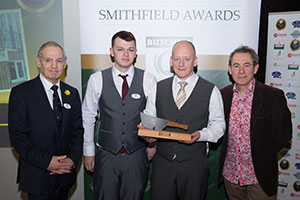 The awards were judged blind by an independent panel of international food and meat industry experts at City of Glasgow College's state of the art facilities. Nigel Barden awarded each category winner with a Diamond Award, as well as those winning awards for the best beef and lamb products of English, Welsh and Scottish origin and the Best Pork and Bacon product of English origin.
As well as taking home Diamond, Moody Sow Farm Shop in Wales was also awarded gold medals for its Dry Cured Streaky Bacon and Sour cream & Mustard Pork Chop.
Nigel Barden said:
"Everything I've witnessed about the Q Guild of Butchers convinces me it's an outstanding institution, representing some of the finest butchers the United Kingdom has to offer. The welfare of the animals, whose meat they sell and the farmers who rear them are of primary concern and in turn the customers who purchase their wares. Combine these with apprentice schemes and top-flight in house training and you produce leaders in their industry. I'm honoured to be involved with the awards and look forward to celebrating those who are at the zenith of the butchery profession."
Mark Turnbull, Chair of the Q Guild of Butchers commented:
"The Smithfield Awards are always a celebration of butchers who are the top of their game, combining traditional skills and knowledge with innovation; great taste with immaculate sourcing. The 2018 award winners demonstrate this superbly. These butchers are custodians of a proud tradition of local artisan butchery and I'm delighted to celebrate their success."
Moody Sow Farm Shop's in Wales diamond and gold products are available from the shop at Cefn Mably Farm Park, Began Road, CF3 6XL.
Visit here www.moodysow.com