Alex Marsh, Managing Director at Close Brothers Retail Finance, reveals the latest trends in garden purchasing and highlights the value of being able to spread the cost of big ticket items for the garden through retail finance.
Looking at the latest ONS retail sales figures, it seems that retailers are managing to hold their own in an extremely challenging economic environment. As we progress through the summer it is clear to see that retailers are under constant attack from the repercussions of inflation outstripping wage growth. However, retail sales have shown unexpected resilience powered by the hot weather which has left British consumers factoring retail therapy in their budgeting. The trends we're seeing from our retailers include:
 Weather
The heatwaves over the past few months have helped boost consumer spending and we've seen a particular increase in sales of gardenware and outdoor activity items. It appears that despite wage growth not increasing in line with inflation, consumers are still happy to spend on garden furniture to make the most of the sunshine.
 Seasonal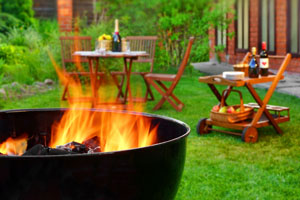 Seasonal changes tend to have a sizeable impact on big ticket garden furniture sales as people take to the shops when the hot weather begins in April and May, particularly around the Easter Bank Holiday and early May Bank Holiday weekend. That said, surprisingly the largest spike in big ticket purchases comes in the winter months, as savvy shoppers purchase items when they can benefit from discounted winter sale prices. We then often see a fall in sales in June, as consumers opt out of purchasing during non-discounted periods.
 Value of sterling
Today's price-sensitive consumers are also adjusting their spending habits in line with the fall in the value of the pound. This drop in value has left many Brits choosing not to holiday abroad this year but instead to kit out their gardens with barbeque grills and garden furniture. This trend is particularly noticeable with the over 35's, who are of course more likely to be homeowners.
 Challenges ahead
The end of summer is fast approaching, and retailers cannot bank on hot weather to continue to fuel sales. Garden and hardware retailers need to be agile and adapt to the challenging economic environment in order to compete. For all ages and demographics, retail finance can play an important role in big ticket purchases. Allowing customers to pay over time in simple, fixed monthly payments, can make products more affordable and increase customer spend and loyalty, which in turn can help retailers thrive all year round.