Thursday, March 14, 2019 - 15:17
With spring just around the corner, it's the perfect time to dust off the gardening gloves and get back in our green spaces. But with over half (52%) of Brits completely neglecting their garden over the winter, getting your garden ready for spring may require a bit more TLC.
As a third (35%) of Brits spend the most time in their garden in spring, experts from outdoor building manufacturer, Tiger Sheds, offer six tips to help your garden bounce back in the warmer months.
1. Look after your tools
After spending a few months tucked away in the shed, it's likely your tools will be looking a little worse for wear. But don't worry! With a little bit of care, you can get them sparkling again in no time.
Using a damp cloth, give your tools a quick wipe to remove any excess dirt or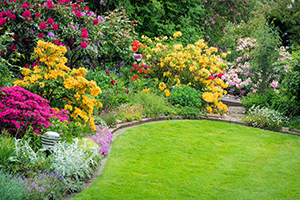 rust. A great tip is to use sandpaper or steel wool to get rid of any problematic rusty spots. When it comes to blades, use an oil-soaked cloth to wipe them down and be sure to sharpen them before use. 
Remember - always dry your tools before storing them as leaving them damp can lead to problems such as rot!
2. Spruce up your furniture
Ahead of its spring debut, it's worth giving your garden furniture a once-over to get it looking its best for the warmer months.
Don't be afraid to get the pressure washer out! Giving your garden furniture a wash with the hose could be just what it needs to get it looking tip-top for spring. If you don't fancy getting your furniture wet, a simple wipe down will do the job and keep it looking clean.
Spring can still bring unpredictable weather so be sure to apply teak or linseed oil to keep your furniture protected against the elements. And, if you're feeling creative, take the opportunity to give your furniture a new look with a fresh lick of paint.
3. Get ready for a fresh trim
Your lawn might not need mowing just yet but with the sunshine not too far away, there are some steps you can take to prepare your green space for its first haircut.
Check on your lawnmower to make sure it's still operating smoothly after a restful winter. If not, now may be a good time to invest in some new machinery before your grass gets out of control. If your lawnmower is still as good as ever, consider getting the blades sharpened. This will help your grass to stay healthy in the long run and will also give a better cut.
Before you start mowing, make sure to clean up any dead leaves, weeds or other debris from the lawn to allow new growth to flourish! Once April is here, take the time to apply a lawn fertiliser to get your grass in perfect condition for the spring sunshine. 
4. Give your flower beds a spring clean
After a typical British winter, it's finally time to inject some life back into your flowers. Get ready to order any seedlings or bedding plants so you can start sowing your pots, borders and hanging baskets ready for summer.
It's important to get stuck back into weeding straight away to tackle the roots while they're still shallow and avoid a big job in the summer months. Prepare your soil for planting by digging your soil and turning it over to ensure the roots of your plants can get enough oxygen. Also, applying compost to the soil will give your plants some extra nourishment.
5. A taste of the good life
Whether you have an established veg patch or you want to start growing from scratch, the new season is a great time to kick start your vegetable garden.
Although it may not be summer just yet, there's still lots you can do with your vegetable patch. Many varieties of vegetable seeds can be grown from March onwards which means you can start enjoying your vegetable garden before summer even arrives. If you're planting salad crops, small polytunnels will give your plants the best chance of success. 
6. Refresh your shed
Spring is a great opportunity to make the most of the pleasant weather and get to work spring cleaning your shed. If it has accidentally turned into a bit of a dumping ground during the winter months, use spring as an opportunity to free up some shed space before summer hits. Combat unwelcome dust and spider webs with a quick clean or, if you have time, perhaps give the inside a quick paint to get it feeling like new.
Emily Slater, Sales Advisor at Tiger Sheds said "Spring is the perfect season to get back into your garden and give it some TLC, especially with so many of us admitting we neglect them over the winter months. Use this opportunity to clean up any mess left by the cold weather and get ready for the warmer weather ahead.
"Don't be afraid to get creative too! There may be some admin to attend to but spring is also a great opportunity to update your shed, garden furniture and fences with a fresh coat of paint and give your garden a new lease of life."
For more information about getting your garden ready for spring click here