Tuesday, March 13, 2018 - 10:40
Building and timber merchant, Beesley & Fildes, has experienced a successful year of sales since taking on Composite Prime decking product, HD Deck Dual, and has forecast to the possibility of double sales within the next 12 months.
Currently stocking both colour options of the reversible decking board in its Widnes and Chester branches, the product has been well received by customers looking for a low maintenance, durable decking solution that retains a natural likeness to timber. HD Deck Dual is the second Composite Prime product to be stocked by Beesley & Fildes, following the success of the wood plastic specialists' HD Deck 146 board within the merchant's branches.
Since stocking composite prime decking at the beginning of last year, Beesley & Fildes has seen a steady sales growth, attributed to the success of products such as HD Deck Dual. Impressed by the products unique quality, the merchant is interested in taking on Composite Prime decking is more recent garden innovations including HD Fence, a contemporary, durable solution for residential gardens and commercial boundaries.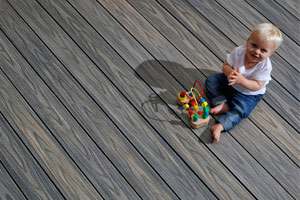 Stuart Hodkinson, product development manager at Beesley & Fildes, said:
"We decided to stock Composite Prime decking due to the quality of the products, which has been proven through the extensive research and testing phase prior to the decking being launched to the market. The uplift in sales we've seen since taking on HD Deck Dual and the support we've received from the company with regards to training has been second to none. We were confident HD Deck Dual would work for us, following our customers' response to the HD Deck 146 board, and now we are keen to see further ranges from the innovative, forward-thinking team."
Beesley & Fildes was established in 1820 and now has a network of nine branches throughout the northwest supplying building, landscaping, timber, joinery and roofing products.
Charles Taylor, sales director at Composite Prime, said:
"Naturally we are thrilled with the response HD Deck Dual has received since its launch last year and have always been confident the product would take off. We have worked hard to ensure the boards fill a real gap in the market for a low maintenance, durable and safe decking solution that has a true natural likeness to timber. We have a strong commitment to our stockists and we couldn't be happier that both HD Deck 146 and HD Deck Dual is proving to be successful for Beesley & Fildes."
HD Deck Dual combines FSC® 100% certified hardwood timber and recycled plastic. Featuring a unique protective cap around the board's outer layer, the material has been innovatively designed to protect the inner core from the elements. In addition, the fully capped design creates a protective layer that offers resistance against stains, fading and weathering. The decking board has also received certification on its slip-resistant feature and carries a 25-year warranty.
For more information on Composite Prime decking please click here