Wednesday, March 27, 2019 - 10:58
The team behind the popular Willow Wand has unveiled its new self-contained trolley display units, perfect for helping retailers drive sales instore.
Pre-loaded with 100 Willow Wands, in three sizes, the display unit has been designed to make it unbelievably easy for retailers to start selling; simply unload, wheel into position and let consumers take their pick.

Based on a Euro-trolley design, the new Willow Wand display units serve as both secure transport, and also a superb eye-catching display with full point of sale materials to maximise sales. What's more, the tiny 0.48m2 footprint offers significant profit potential, with featured stock offering an RRP of £1,500, supported by great profit margins.
The full trolley - delivered for free, and collected at the end of the season - can be purchased for £455 excluding VAT, offering a great ROI, and makes it easy to maximise sales in high-footfall areas thanks to the flexibility that is afforded by the mobile unit. What's more, retailers can re-order more stock and top-up orders at any time, enabling them to better manage stock handling throughout the season.
Simon Read, Willow Wand MD, said: "Willow Wands are proven to offer great gifting, and pick-up line potential, which is why we have created this new trade display unit. Placing it in store within high footfall areas couldn't be easier, whilst the dedicated point of sales material does the hard work for you, delivering a great return on investment. With three different sizes of Willow Wand available, and prices ranging from RRP £10 - £20, there is something for all tastes and budgets, whilst the ease of use of the product means repeat sales, and great cross-selling potential with pots and planters."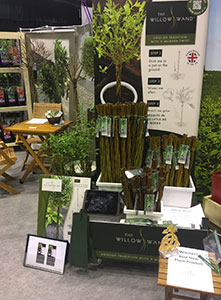 About Willow Wand
Hardy Willow Wands are hand-crafted in the UK from nine living willow stems, each expertly selected by the company's master weavers. The finished product – a stunning symmetrical wand that forms an eye-catching feature in any garden – is woven by hand with impeccable accuracy and skill.
Stems of the Willow Wand remain fixed at the same height, but over the years they'll graft together and become one single willow trunk, while retaining a beautiful twisted decorative effect.
In as little as six weeks after planting, decorative stems of the Willow Wand will have grown a delightful topiary crown. All gardeners have to do is trim the crown into any desired shape – no expertise is needed. Wands create wow factor when planted as a centre piece, in groups or to form standard decorative hedging. They'll thrive in sun or shade.
For more details call 0330 120 0604 or email info@willowwand.co.uk.