Monday, November 5, 2018 - 15:47
From green-fingered fanatics to keen DIYers, gadget lovers and those who seem to have it all, Bosch Home and Garden has created the ultimate Christmas gift guide featuring some of its latest products, including a finalist in the RHS Product of the Year competition at this year's Chelsea Flower Show. 
Bosch Home and Garden's aim is to make light work of both DIY and gardening tasks, and this applies to their gift guide too, taking the stress and hassle out of thinking of gifts for a loved one at this festive and frenetic time of year. 
Whether you're looking for a present for a novice or expert DIYer, a gardener who is learning the ropes or has years of experience, or someone who likes the latest gadget to add to their collection, Bosch Home and Garden has the ideal Christmas present for everyone.
THE DIY TOOLS
EasyCut 12, Cordless NanoBlade Saw (RRP £139.99)
RHS Garden Product of the Year finalist at Chelsea Flower Show 2017
With over 40 patents on the blade alone combined with NanoBlade technology, the EasyCut 12 is a world first from Bosch Home and Garden. This nifty tool is the perfect product for those tech-lovers that go crazy for the latest gadgets.
The cordless mini saw is a tool for both inside and outside the home and weighing only 900 grams, it's able to make clean and precise cuts with minimal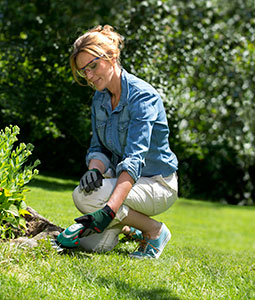 vibration and is ideal for pruning bushes and cutting small branches. 
IXO, Lithium-ion Cordless Screwdriver (RRP £44.99)
Ergonomic and compact, this small, handy and cordless screwdriver can take on a wide variety of everyday screwdriver tasks and is the must-have item in every DIYers toolbox. Simply add a red bow to this nifty tool that is already well presented and packaged in a neat tin and tick another name off your 'nice' list. 
Now in its 5th generation, the IXO cordless screwdriver weighs just 300 grams yet is totally versatile with the number of available attachments. Pair the Bosch IXO with one of the quirky accessories sold separately for the ultimate Christmas gift.
The IXO corkscrew accessory (RRP £16.99) is a perfect match for your wine loving friends. The product's stainless-steel design allows it to maintain a sleek look within a modern-day kitchen, and when screw tops get swapped out for expensive wines at Christmas time, this stocking filler makes removing the cork easier than ever. 
The IXO spice mill (RRP £16.99) is another kitchen essential for those who love to cook. This IXO accessory can be filled with an array of spices and allows for effortless seasoning of dishes. Along with the Bosch Corkscrew this quirky accessory would make an exciting addition on the Christmas dining table!
Consider an IXO BBQ adapter (RRP £16.99) for the grill master in the family. This handy attachment is ideal for smoothly starting fires in the winter time and barbecues in the summer by helping to maintain heat. Not only does the accessory click into place within seconds but is made of fireproof material and has a safety strap too. 
PSB 18 LI-2, Lithium-ion Cordless Two-speed Combi Drill (RRP £106.00)
Every DIYer, no matter what their level of expertise, needs a cordless drill in their tool box and the PSB 18 LI-2 combi drill from Bosch Home and Garden is the one to own. 
This cordless combi drill is lightweight at just 1.5 kilos and features a two speed, high performance gear box for better power transfer and smoother use as well as 20 selectable torque settings which helps the user tailor the tool, depending on the task at hand.  
THE MEASURING TOOLS
UniversalInspect, Inspection Camera (RRP £84.99)
The UniversalInspect is the ultimate Christmas present for someone that loves DIY and wants to take their knowledge one step further. This inspection camera is the only one of its kind and features a camera head with a small diameter, enabling the user to see what's behind the surface in hard to reach areas in the home. 
The cable can temporarily be submerged in water when troubleshooting pipe blockages. Up to eight images can be stored on the UniversalInspect with space for many more thanks to the SD card integrated slot. 
This tool can be stored easily with its wrap around cable and comes with a variety of accessories such as a magnet and hook for lost screws and metal objects, ideal at Christmas time when lots of new toys are being assembled in the home, and a mirror for viewing around u-bends. 
Zamo, Digital Laser Measure (RRP £55.13)
With its one-button operation and easy-to-read screen, the Zamo makes measuring simple. Lengths and distances of up to 20m can be determined quickly and precisely, ideal for all indoor DIY measuring jobs and far quicker than a regular tape measure! Its small and compact design means it can be tucked away in a pocket for easy transport and accessibility too. 
Truvo, Digital Detector (RRP £44.09)
Help your giftee avoid future DIY disasters with the Truvo multi-detector from Bosch Home and Garden. The Truvo detects live cables and metal objects that cannot be seen and automatically calibrates once it's switched on. Due to its one button operation and 'traffic light' LED system with audible warning sounds, the Truvo is easy to use and a must-have for most DIY home décor projects. 
THE GARDENING TOOLS 
EasyPrune, Cordless Secateur (RRP £85.00)
RHS Garden Product of the Year finalist at Chelsea Flower Show 2018
Where conventional secateurs reach their limits, the EasyPrune's power-assist technology is just getting started: It cuts through branches with a diameter of up to 25 millimetres, effortlessly making light work of cutting all types of branches, thick or thin.
Unlike conventional secateurs, which can get jammed if the branch is too thick, the EasyPrune power-assist technology delivers a far superior performance, eliminating the need to stop, remove the branch from the tool and reposition in order to continue the cut.
Isio, Cordless Shrub and Grass Shear Set (RRP £70.00)
Ideal for everyday gardening tasks such as tidying up and trimming edges to creative shaping of topiary, evergreens, and small leafed plants, the Bosch Isio cordless shrub and grass shear set is perfect for the green-fingered person on your Christmas list.
The lightweight and powerful cordless shrub and grass shear breezes through many garden challenges thanks to its innovative anti-blocking and multi-click system, enabling easy attachment change between shrub and grass blades at a touch of a button. 
Feeling generous? There are additional accessories available such as an Isio Sprayer (RRP £12.00) to apply water and pesticides and the Isio Telescopic Handle (RRP £40.00) for extra reach.
UniversalHedgePole 18, Cordless Telescopic Hedgecutter (RRP £190.00) 
The UniversalHedgePole 18 is perfect for trimming young shoots and small to medium branches on tall hedges such as conifers, privets, beeches or yew trees, without the need for grabbing a ladder.
The tool, which allows for impressive reach as it can be adjusted to 2.6m in length, has a 43-centimetre blade and its head can be pivoted around 135 degrees, offering even more flexibility. 
AdvancedRotak 650, Lawnmower (RRP £269.99)
Winner of Best Buy Award from Which?
The new generation tools, including the AdvancedRotak 650, are the quietest high-performance lawnmowers Bosch has ever made, all thanks to Bosch ProSilence technology. The smooth sound profile of the Bosch ProSilence prevents your lawnmower from disrupting your garden's tranquillity by reducing its sound power level by up to 75% to 89 dB, while delivering an excellent finish.
With its new Ergoslide system, the AdvancedRotak 650 means the user can mow with less effort but maximum control. The Bosch Ergoflex handles allow you to manoeuvre your Rotak with ease and achieve your task quickly while being kinder to your back. The new HOC (height-of-cut) system makes changing the cutting height of your mower easier than ever. A simple one button operation changes the height of cut from 20 to 80mm.
Six in ten modern Brits struggle with DIY according to a recent study from Bosch Home and Garden. As a result, Bosch has launched its 'Pass It On' campaign to help encourage the next generation to learn vital new skills and become amateur home DIYers themselves.
To further encourage those looking to gain essential DIY and gardening skills, Bosch Home and Garden has created allaboutdiy.com. This inspirational DIY hub will help individuals find step-by-step guides, DIY hints and tips, project ideas and seasonal projects.